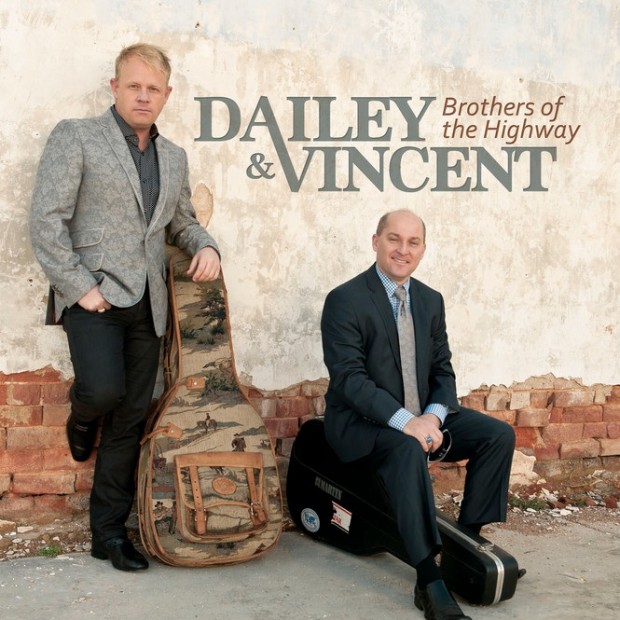 Brothers Of The Highway
Release Date: May 7, 2013
Dailey & Vincent is one of the top Bluegrass bands in America. From the very beginning of their partnership in late 2007, Jamie Dailey and Darrin Vincent quickly established themselves as fresh voices in their genre. The
concoction of their fantastically powerful vocal blends, 4 award-winning studio albums, and heavy touring schedules has gained them well-deserved attention from bluegrass, country, and gospel critics and fans alike.
Dailey & Vincent has been recognized as 3-time IBMA Entertainer of
The Year, 3-time IBMA Vocal Group of the Year, 2-time Grammy nominee, and
Dove Award winners. Equally at home with material from any of the
aforementioned genres, Jamie and Darrin continue to expand on the
possibilities of what kinds of music can become "Dailey & Vincent" music.
The band has also become a perennial favorite on the touring and festival circuit: they play over 115 shows per year to sold out crowds in the United States and have developed a strong international following.
Young but seasoned veterans of bluegrass, traditional country, and gospel groups themselves, Dailey and Vincent have built on the experience and knowledge gained from working with Doyle Lawson (Dailey) and John Hartford and Ricky Skaggs (Vincent) to forge their own distinct career path. Darrin Vincent began his career onstage at age two with his family band, The Sally Mountain Show (and has been singing with his sister Rhonda for most of his life). Jamie Dailey also comes from a musical family: his father, guitarist J.B. Dailey, was a founding member of The Four J's, a regional gospel quartet. Jamie started singing when he was just three years old. By the time he was nine, he was learning to play bass and guitar, and within a few years, he added banjo to his repertoire.
The duo's two most recent albums, Dailey & Vincent Sing the Statler Brothers and The Gospel Side of Dailey and Vincent, both garnered Grammy nominations, but each had a very specific focus. With Brothers Of The Highway, Dailey &Vincent made a conscious attempt to take stock of their careers so far, a sort of look "Back To The Future," heeding the admonition of their friend and mentor Ricky Skaggs, who advised them "you can't know where you're going unless you know where you've been."
In Jamie Dailey's case, knowing where you've been includes a look back at his childhood, which he does in his original song "Jackson County," a finely crafted account of his idyllic upbringing in Jackson County, Tennessee. Recalling church bells on Sunday morning, family picnics on the Cumberland River, the sound of rain on a tin roof, and the call of whippoorwills, the song is not only a perfect evocation of his youth, but serves as a fitting metaphor for where the duo finds itself today. The song opens with the simple interplay of the fiddle and banjo, although it blossoms into a full band number.
Similarly, the Jamie Dailey original "Steel Drivin' Man," which leads off the album, is a hard driving workout for banjo, guitar, mandolin, and fiddle, (played respectively by Jessie Baker, Bryan Sutton, Jeff Parker, and Andy Leftwitch).
"Close By," composed by the Father of Bluegrass himself, Bill Monroe, reminds listeners of Dailey & Vincent's close ties to that most American of form.
"When I Stop Dreaming" is a lovely Louvin Brothers ballad, and showcases the power and beauty of Dailey and Vincent's vocal blend, as well as showcasing Darrin's emotive lead solo vocal.
"Brothers Of The Highway," originally recorded by George Strait, is an anthemic treatment of the life of the long haul truck driving fraternity, and is given new life through its inventive, string driven acoustic arrangement.
"Tomorrow I'll Be Gone," written by the great Wilma Lee Cooper, was first recorded by Bill Monroe.
"Hills Of Caroline," which features a guest performance by guitarist Bryan Sutton, is a dark, tragic tale from the pen of Vince Gill, though it sounds as old as the hills that it describes.
"Big River" is an original bluegrass number written by Pine Mountain Railroad's Cody Shuler, and features a great fiddle break from band member B.J. Cherryholmes and his phenomenal sister Molly.
"Howdy Neighbor Howdy" is a venerable feel-good number from Grand Ole Opry legend Porter Wagoner.
"It Will Be Wonderful Over There" showcases the much heralded Dailey & Vincent gospel quartet, including outstanding vocal harmonies from Jamie, Darrin, the wonderful Jeff Parker, as well as the floor-rattling bass voice of the astounding Christian Davis.
"Back To Hancock County," by Pete Goble and Leroy Drumm, is another look back at a way of life that is all but gone for most folks, though fondly remembered in the music and lyrics of Dailey &Vincent.
The album closes with "Where Have You Been," the wonderfully evocative Kathy Mattea hit, co-written by Mattea's husband Jon Vezner and Don Henry.
While Dailey and Vincent continue to draw on the lessons they learned over the years about respect for musical integrity and the importance of tradition, they have certainly planted their own flag deeply and permanently into the soil of American music.
Dailey & Vincent are supported by some of the best musicians in the world. Their unparalleled band lineup includes the outstanding mandolin playing and lead and harmony vocals of Jeff Parker, the remarkable talents of banjo player Jessie Baker, fiddler B.J. Cherryholmes, bass singer extraordinaire Christian Davis, as well as the unmatched vocals of Jamie and Darrin themselves.
In the world of acoustic traditional music, "sibling harmony" is special. It's no accident that the best harmonies in bluegrass, dating back to its earliest days, have been by siblings: the Monroe Brothers, the Stanley Brothers, the Osborne Brothers, Jim & Jesse, and Dailey & Vincent's contemporaries the Gibson Brothers. In traditional country music, the Delmore Brothers and the Louvin Brothers both left their unique mark.
Although Jamie Dailey and Darrin Vincent aren't related by blood, the instinctive vocal blend they have achieved rivals that of any singing siblings: it's no accident that they titled an earlier album Brothers From Different Mothers, and with Brothers Of The Highway, the ties they've forged grow ever stronger.