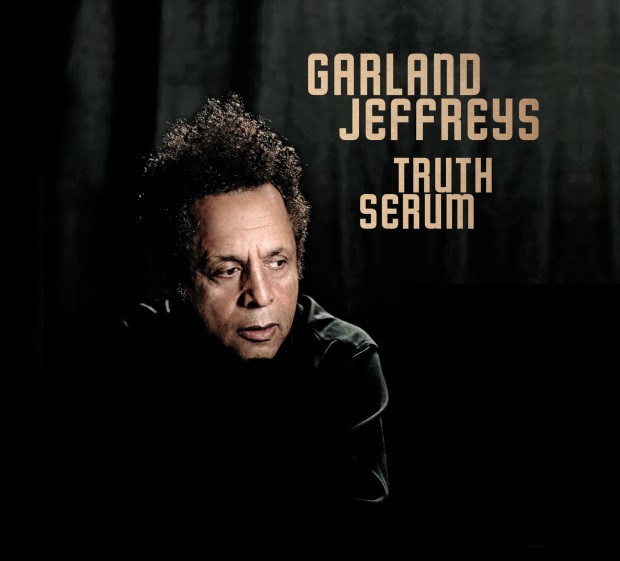 "Brilliant, defiant" – Mojo
 "A remarkable talent…musical dynamite" – The Sunday Times
 "A singer-songwriter of extraordinary soul and grace…whether you know it or not, Garland Jeffreys is musical royalty" – Huffington Post
 Garland Jeffreys has announced the release of his upcoming album Truth Serum on Monday, 30th September. The seventy-year old rocker remains the world's most revered undiscovered artist; the album is his twelfth in a career spanning four decades and marks the 40th anniversary since his debut solo release.
Truth Serum follows 2011's The King of In Between, which was the songwriter's first album in thirteen years and earned rave reviews from critics and artists alike for harkening back to the candour and social consciousness of his early work and Jeffreys' characteristic "defiant vocal poise" (Rolling Stone).
Along the way, he's played with artists such as Lou Reed, John Cale, Bruce Springsteen, and Dr John, among others. Jeffreys met Reed while studying at Syracuse University in the early '60s and became a part of the East Village scene. In 1977, he travelled to Jamaica to work on his breakthrough album, Ghost Writer, for which Rolling Stone named him New Artist of the Year.
Born into a mixed race family in 1940s Brooklyn, Jeffreys achieved a level of commercial success in 1973 with the song "Wild in the Streets," written in response to the murder of a teenage girl in the Bronx. The song became something of an anthem among skaters and helped precipitate the arrival of punk later in the decade. A keen social critic, he has regularly made issues ranging from race relations to marital fidelity the subjects of his songs; for instance, 1992's "Don't Call Me Buckwheat" saw the artist addressing racism after having the slur hurled at him by a bigoted baseball fan.
Jeffreys prides himself on artistic freedom, producing Truth Serum himself with the support of co-producers James Maddock and Larry Campbell (Bob Dylan, Levon Helm). Enlisting the help of some of NYC's top session musicians, Garland has crafted an exquisite, soulful record from a large collection of cassette sketches. "The obsessions, the imagery, the things I care most about were all on those cassettes," he says, "I love their compression and ragged feel".
The result is an album that stands among Jeffreys' very finest, combining the wisdom and perspective that can only come from age and experience with the passion and grit that have made him  "one of New York's rock and roll treasures" (The New Yorker). The record is a call to arms, a reflection on the world we live in and a vision of the world we owe it to ourselves to pursue. It's the unvarnished declaration of a man whose time has come.
For more information, visit www.garlandjeffreys.com
For press enquiries, please contact
Jo Donnelly jo@jodonnellypr.co.uk | 020 8788 1445