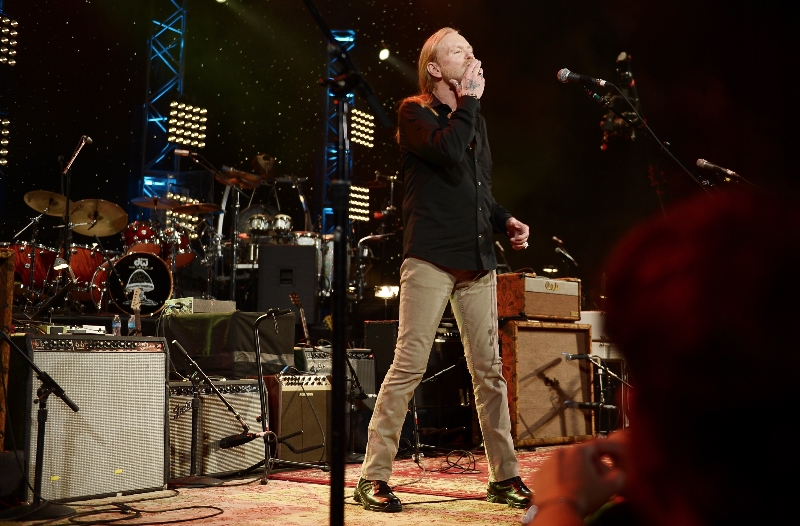 All My Friends: Celebrating the Songs & Voice of Gregg Allman captures a once-in-a-lifetime performance, honouring one of the most acclaimed and beloved icons in rock and roll history.
A founding member of the Allman Brothers Band and successful solo artist in his own right, Allman possesses a voice that has resonated through four decades. The CD and DVD feature momentous performances by Warren Haynes, Derek Trucks, Susan Tedeschi, Devon Allman, Robert Randolph, Jimmy Hall, Sam Moore, Keb' Mo', Brantley Gilbert, Jess Franklin, Dr. John, Pat Monahan, John Hiatt, Jaimoe, Taj Mahal, Gregg Allman, Widespread Panic, Trace Adkins, Vince Gill, Martina McBride, Eric Church, Jackson Brown, Zac Brown, and The Allman Brothers Band with musical direction by Don Was. Extensive bonus material includes 26 exclusive interviews, behind the scenes footage, as well as a special Gregg Allman presentation. Shot in high definition with 5:1 Dolby sound at the historic Fox Theatre in Atlanta, this remarkable piece pays tribute to a voice that once heard is never forgotten.
**The  Allman Brothers have announced that they will no longer tour together so this live show may be one of the last times anyone will see the band in it's current incarnation play live.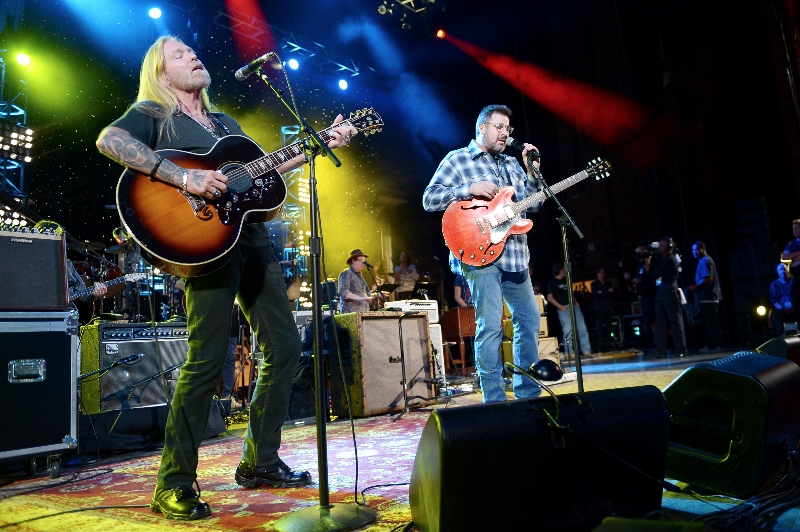 Rolling Stone Premieres "Midnight Rider"
Watch Here:http://rol.st/1ln8VFL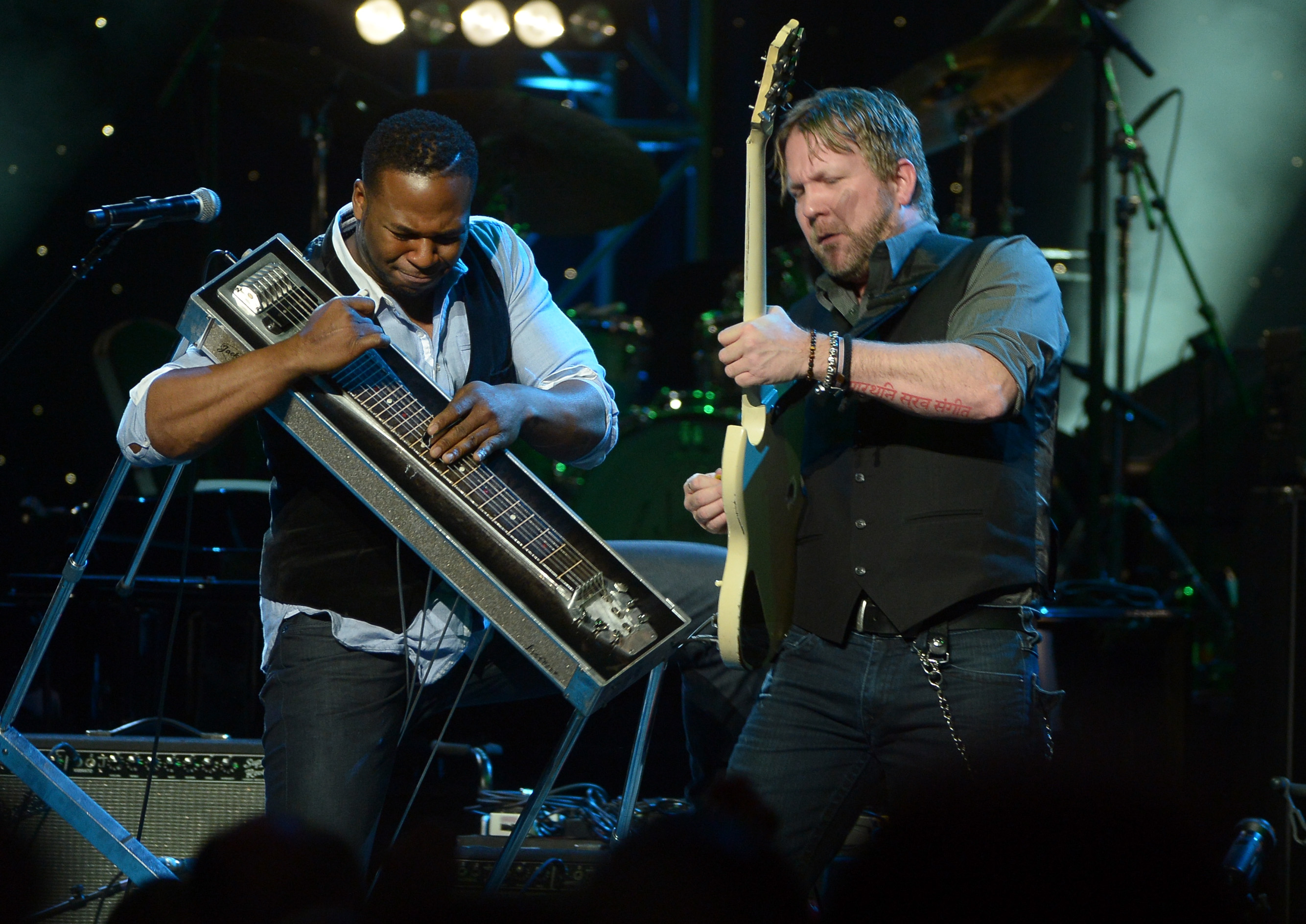 Project website: celebrategreggallman.com
Gregg Allman web: greggallman.com
Gregg Allman Facebook: facebook.com/GreggAllman
Gregg Allman Twitter: twitter.com/GreggAllmanNews
Track listing:
CD 1
Come and Go Blues – Warren Haynes (6:49)(Gregg Allman)
End of the Line – Warren Haynes and Derek Trucks (5:47) (Gregg Allman-Warren Haynes-John Jaworowicz-Allen Woody)
Stand Back – Susan Tedeschi and Derek Trucks (4:28) (Gregg Allman-Raymond Berry Oakland III)
You Can't Lose What You Ain't Never Had – Devon Allman, Jimmy Hall and Robert Randolph (6:17) (McKinley Morganfield)
Please Call Home – Sam Moore (xx:xx) (Gregg Allman)
Just Another Rider – Keb' Mo' (6:33) (Gregg Allman-Warren Haynes)
Before the Bullets Fly – Brantley Gilbert (3:41) (Warren Haynes- John Jaworowicz-Henry Jack Williams)
Let This Be a Lesson to Ya – Dr. John (3:40) (Gregg Allman-Malcolm Rebennack)
Queen of Hearts – Pat Monahan (5:23) (Gregg Allman)
One Way Out – John Hiatt (5:00)
(Sonny Boy Williamson-Elmore James-Marshall Sehorn)
Statesboro Blues – Taj Mahal and Gregg Allman (4:41) (Blind Willie McTell)
Just Ain't Easy – Widespread Panic (6:22) (Gregg Allman)
Wasted Words – Widespread Panic and Derek Trucks (5:43) (Gregg Allman)
I'm No Angel – Trace Adkins (3:52) (Tony Colton-Phil Palmer)
CD 2
Trouble No More – Trace Adkins (4:10)(Muddy Waters)
Multi-Colored Lady – Vince Gill (5:22) (Gregg Allman)
All My Friends – Martina McBride (4:54) (Scott Boyer)
Can You Fool – Pat Monahan and Martina McBride (3:24) (Michael Smotherman)
Ain't Wastin' Time No More – Eric Church (4:21) (Gregg Allman)
Win, Lose or Draw – Eric Church (6:00) (Gregg Allman)
These Days – Jackson Browne and Gregg Allman (4:55) (Jackson Browne)
Melissa – Jackson Browne and Gregg Allman (5:22) (Gregg Allman-Steve Alaimo)
Midnight Rider – Vince Gill, Zac Brown and Gregg Allman (5:01) (Gregg Allman-Robert Kim Payne)
Dreams – The Allman Brothers Band (10:55) (Gregg Allman)
Whipping Post – The Allman Brothers Band (13:06) (Gregg Allman)
Will the Circle Be Unbroken – full cast (8:57) Traditional
DVD
1. Come and Go Blues – Warren Haynes
End of the Line – Warren Haynes and Derek Trucks
Stand Back – Susan Tedeschi and Derek Trucks
You Can't Lose What You Ain't Never Had – Devon Allman, Jimmy Hall and Robert Randolph
Please Call Home – Sam Moore
Just Another Rider – Keb' Mo'
Before the Bullets Fly – Brantley Gilbert
Let This Be a Lesson to Ya – Dr. John
Queen of Hearts – Pat Monahan
One Way Out – John Hiatt
Statesboro Blues – Taj Mahal and Gregg Allman
Just Ain't Easy – Widespread Panic
Wasted Words – Widespread Panic and Derek Trucks
I'm No Angel – Trace Adkins
Trouble No More – Trace Adkins
Multi-Colored Lady – Vince Gill
All My Friends – Martina McBride
Can You Fool – Pat Monahan and Martina McBride
Ain't Wastin' Time No More – Eric Church
Win, Lose or Draw – Eric Church
These Days – Jackson Browne and Gregg Allman
Melissa – Jackson Browne and Gregg Allman
Midnight Rider – Vince Gill, Zac Brown and Gregg Allman
Dreams – The Allman Brothers Band (10:55)
Whipping Post – The Allman Brothers Band
Will the Circle Be Unbroken – full cast
For further information, interviews, music, pix,  Please contact Sara Silver
sara@silverprojects.com
+44 208 265 0772