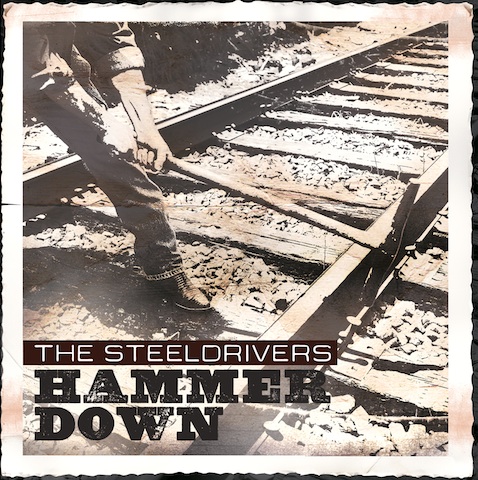 GRAMMY® NOMINATED BLUEGRASS-MEETS-SOUL BAND  THE STEELDRIVERS RELEASING NEW HAMMER DOWN
"They're a blues, country, bluegrass, swagger band and they are brilliant." ~ Adele
"Whether it was older songs such as 'Drinkin' Dark Whiskey' or newer songs such as 'Guitars, Whiskey, Guns and Knives,' the new lineup earned the respect of the most skeptical in the crowd. The SteelDrivers are still in the running to become a crucial factor in the history of bluegrass." ~Geoffrey Himes, Baltimore City Paper
The SteelDrivers are back! The three time Grammy® nominated bluegrass-meets-soul band has threaded the roots of bluegrass music with the distinctive threads of their own design, bringing together country and soul to create their own unapologetic hybrid of new music with the old feeling. Hammer Down, their third release on Rounder Records, is set for release March 5th 2013.
The SteelDrivers' brand of bluegrass – intense, dark, poetic, and inescapably human – is a refreshing reminder of the timeless power of string band music, and is captured perfectly on the new Hammer Down. The band has gone through a few changes since they first hit the national scene in 2008 with their self-titled debut, but their songs and sound remain fresh and powerful.
The SteelDrivers are banjo player Richard Bailey, bass/vocalist Mike Fleming, guitar/vocalist Gary Nichols, fiddler/vocalist Tammy Rogers and mandolinist Brent Truitt. Produced by Luke Wooton, Hammer Down is a collection of 10 new tunes from original members Chris Stapleton and Mike Henderson, as well as Rogers and Nichols. The set also includes the songs "I'll Be There" and "Cry No Mississippi" that Nichols co-wrote with John Paul White – one-half of the band The Civil Wars.
The English pop star Adele was so smitten with the band that she began performing their song, "If It Hadn't Been For Love," in her live performances and released as a B side.
Throughout 2013, The SteelDrivers will be touring nationwide in the USA at clubs and festivals.