Faustian, haunted country….something Ennio Morricone, Lee Hazlewood and Calexico might have dreamt up at an imaginary cantina. A triumphant curio"
**** The Guardian
"…a sensational live performer with a persuasive blend of haunting, pristine falsetto vocals (she sounds like giddy mix of Emmylou Harris, Patsy Cline and Loretta Lynn), tangy heartbreak lyrics and a sharp wit" – The Independent
"…a kitschy cinematic journey, told by a cast of unsavoury characters that moves from tragedy to redemption. Wonderfully widescreen"  – Mojo
"Lindi Ortega is a special artist, a one-of-a-kind songwriter with a unique vision which seems to be getting stronger. A wonderful album" – 5/5, Country Music People
EU TOUR DATES JUNE 2018 
02 – Grand Social – Dublin, UK
03 – Empire – Belfast, UK
05 – Leadmill – Sheffield, UK
06 – Oran Mor – Glasgow, UK
08 – Cluny – Newcastle, UK
09 – Brudenell – Leeds, UK
11 – Gorilla – Manchester, UK
12 – Komedia – Brighton, UK
13 – Fleece – Bristol, UK
14 – Garage – London, UK
16 – Sthlm Americana – Stockholm, SWE
17 – Pustervik – Gothenburg, SWE
18 – Cafe Mono – Olso, NOR
19 – Slagthuset – Malmo, SWE
21 – Tivoli Vredenburg – Utrecht, NLD
23 – Komos Festival – Copenhagen, DEN
24 – Knust – Hamburg, GER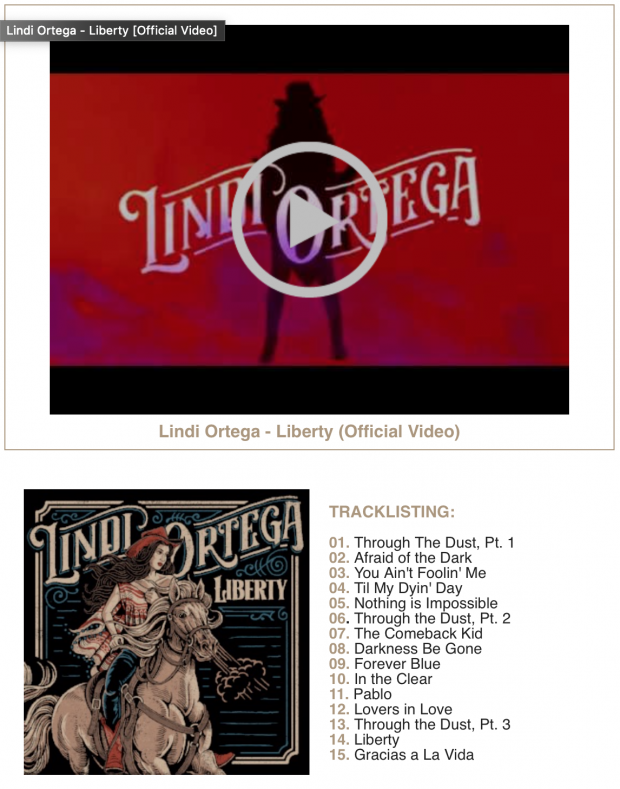 Lindi Ortega gives fair warning: "Don't come any closer to my heart /If you're afraid of the dark."
However, that shroud is slowly lifted in Liberty. As the narrative unfolds in this concept album, a central character emerges – one who finally sheds the darkness of her past and emerges into the light. As melodies and tempos change throughout Liberty, her journey carries her steadily forward. Listen closely and you'll find Ortega's experiences in the lyrics too.
"I think the most important thing for me was that I ended on a very positive note because I've had so many people tell me that my songs helped them through really hard times in their life," Ortega says. "That struck a chord for me, because just like everybody else, I have had hard times in my life, and continue to have pockets of difficult moments here and there. If I can provide some sort of solace with my music, then that gives me every reason to make music. I wanted this record to be all about helping people through the darkness."
The melodies and arrangements of Liberty draw on the epic work of Oscar-winning composer Ennio Morricone, who became one of Ortega's musical obsessions during the writing and recording of Liberty. Moreover she enlisted Nashville producer Skylar Wilson (Justin Townes Earle, Rayland Baxter) when she discovered their shared passion for Quentin Tarantino movies. It is fitting that NPR's All Things Considered has described Ortega as "genre-defying in both her music and her personal style."
During the sessions at Battle Tapes studio in East Nashville, Ortega and Wilson scaled back the boot-stomping, throwback country approach that she's known for, instead polishing a set of music that reflects her lineage. Her father is Mexican; her mother is Irish. The sonic landscape of Liberty is enhanced by Nashville band Steelism, known for their dramatic blend of pedal steel guitar and electric guitar, as well as Country Music Hall of Fame member Charlie McCoy on harmonica.
In 2017, Ortega opened select dates for Chris Stapleton and Dwight Yoakam. In addition, she married Canadian musician Daniel Huscroft and relocated from Nashville to Calgary. Liberty concludes with "Gracia a la Vida" from the pen of Chilean composer Violeta Parra. The title translates as "Thank you to Life."
"Even though I always tried to have a silver lining, whether it's by making my songs tongue-in-cheek, or writing some dark lyrics to happy music, there's always been an element of balancing light and dark on my previous albums," Ortega explains. "But this is a full story, and I wanted everybody to be able to take something away from it at the end of the day."
For more information about Lindi Ortega please contact Sara Silver
sara@silverprojects.com +44 (0)20 8265 0772
http://www.silverprojects.com/news/