"A delightful outing." ****The Observer 
"This is a wonderful album that demonstrates the versatility of the banjo through the musicianship and breadth of Fleck and Washburn" *****CMP 
"If you ever doubted the banjo's ability to take the sole spotlight, then this is potentially a Damascene moment, but with the pure pleasure of being proved wrong in such a wonderful way. Embrace it now." Folk Radio UK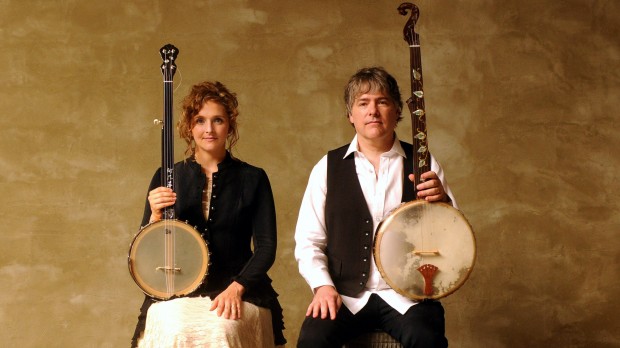 Béla Fleck & Abigail Washburn released their debut duo album to widespread critical acclaim at the end of October 2014. Following a busy year of touring in the USA, the duo fly in for a UK tour in November, including a date at the Southbank Centre as part of the London Jazz Festival. There will be limited promotional opportunities while they are in the country and will be available 28th – 30th October,
The beautifully played and recorded album featured just the duo's banjos and Abigail's distinctive voice, with its unique blend of old-timey roots and mercurial sweetness. Instrumentally the duo worked with various combinations of seven different banjos, from the smallest ukulele banjo to the bass tones of the cello banjo, making a compelling case for the unique versatility, tonal richness and harmonic possibilities of the instrument.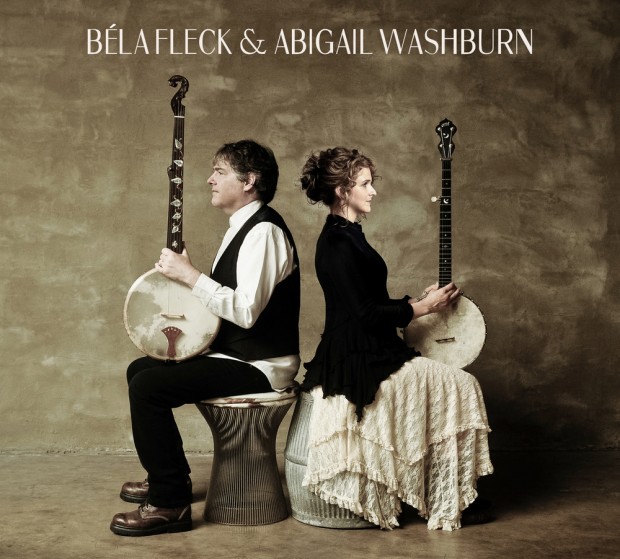 They re-imagined traditional songs, mixing in new original compositions ranging from the murderous and dark Pretty Polly and Shotgun Blues, through spirituals, I Am Born To Die and What Are They Doing In Heaven Today? There are songs of toil in Railroad and longing in Ride To You and songs inspired by their young son Juno, such as Little Birdie and Bye Bye Baby Blues. There's room for a revisit to the Flecktones New South Africa, and more adventure with Little Children, the classically rooted variation on Bartok's work, and the improvisation of Banjo Banjo. Re-purposed with an environmentally conscious slant Watcha Gonna Do is a response to recent natural disasters and the ongoing crisis of global warming.
Béla is readily acknowledged by many as one of the greatest banjo players of all time with 15 Grammy Awards to his name. Constantly pushing the boundaries of his chosen instrument first with his band the Flecktones, but also through collaborations with the likes of jazz pianists Chick Corea and Marcus Roberts, Bela sees no limit to the banjo's range. He has also explored the banjo's African roots travelling extensively through Mali, Gambia, Uganda and Tanzania, a journey that became a documentary film.
Abigail is a fine singer and brilliant player in her own right and her clawhammer style creates a natural counterpoint to Béla. Her own work with Uncle Earl, The Sparrow Quartet and solo, including the most recent album City Of Refuge recorded with Kai Welch and Producer Tucker Martine, has won widespread acclaim. Abigail also has broader cultural interests, having studied, lived and taught in China. She has toured Tibet and the Silk Road as a musical ambassador at the request of the US Government and played in Beijing during the 2008 Olympics.
"Alive and in constant motion, the banjo discourse provides a wondrously open backdrop for Washburn's vocals." NPR
"It's an exquisite recording from a pair of musicians who, surprising nobody, can slide from song to song, slaloming through disparate musical styles that are also inextricably connected." No Depression
In an interview with Songlines last year, Fleck claimed that the humble banjo is actually the world's most richly versatile instrument. He's biased, of course. But there's plenty of evidence here that he may just be right. ****Songlines
Two modern greats of the banjo ooze bluegrass class, whether on original compositions such as Abigail Washburn's Ride To You or on Appalachian classics such as Pretty Polly. ***The Telegraph
"Fleck and Washburn have created something very special. . . by making new songs old and old songs new, this album is musical testament to concentrating on what's important, keeping it simple, and getting the details right." Steve Hunt, fRoots 
"…the result is a heartfelt collection that will readily find favour with fans of Gillian Welch and the Be Good Tanyas. The couple's armoury (of banjos) creates an orchestra of picking, plucking, sliding strings that goes a long way to supporting Fleck's claim that an instrument routinely described as 'humble' is actually unrivalled in its rich depths and versatility." (8/10) Uncut 
November 3  – Porgy & Bess
Vienna, Austria
November 4 – Sofia Live Club
Sofia, Bulgaria
November 4  – Music Jam
Sofia, Bulgaria
November 5 – Sala Radio
Budapest, Hungary
November 7 – Palace Acropolis, 
Prague, Czech Republic
November 8 – Palace Of The Arts
Budapest, Hungary
November 10 – Blue Note
Milan, Italy
November 11 – Jazz Festival
Barcelona, Spain
November 13 – Howard Assembly Rooms
Leeds, UK
November 14 – Southbank Centre
London, UK
November 15 – St. Georges
Bristol, UK
November 16 – The Sage
Gateshead, UK
November 18 – Vicar Street
Dublin, Ireland