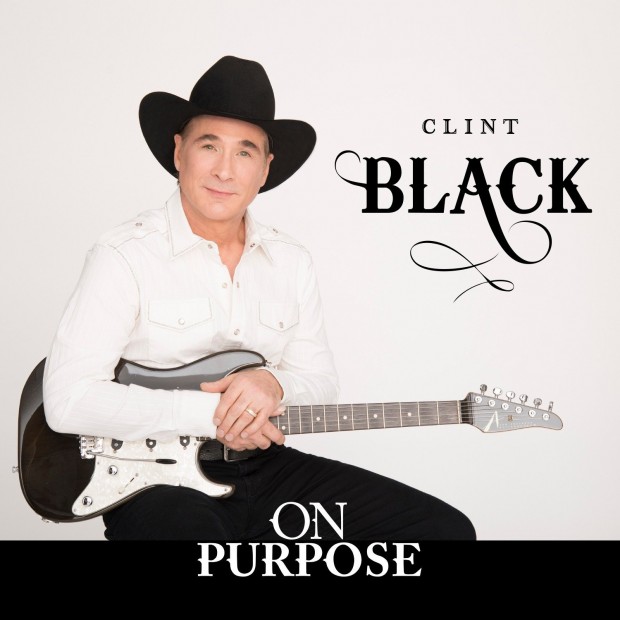 Clint Black On Purpose
Released October 2015 …The first new album in 10 years from this legendry Texas country star.
There are some artists that instantly open your eyes to the enduring appeal of country music, it doesn't need to be cool, it just needs to be true. One such is Clint Black. On the cover of On Purpose, his first album for 10 years he wears the Stetson Hat to match his name, but it's not a dress code or outfit, just something that feels right for a true Maverick from the Lone Star State, as he summons the spirits of Waylon, Willie, Hank, Merle and Buck Owens and corrals his inspirations into a unique and original song-style that is pure Clint Black.
It's no Doc Holiday card-trick, but the ace up his sleeve is a songwriter's gift for telling a story and making you believe every word. That gift is based on a clear understanding that to tell those stories, you have to listen first. There are lessons to be learned in the everyday details of people's lives. Clint's ability to find and link the things that really matter into compelling narratives is the heartfelt part of his success story.

Listen to Time For That, with Clint feeling the pressures of a life where the cell phone keeps chirping and realising, "I'm on track for a heart attack, if I don't do some kicking back." Better Or Worse finds him, "Singing the chorus when I need more verse," over the kind of slinky guitar line that would make Tony Joe White sit up and take notice. Doing It Now For Love is another up-tempo number that rightly suggests money won't but you everything.
There are more rockers and songs that line up to make their point like the political Still Calling It News, with its baritone guitar twang and same-old-same-old politics. There's the crunching guitar of Making You Smile, with the suspicions that it's someone else who's putting the skip into a lover's stride. Beer is another hot riffing boogaloo that delves into the pleasure and pain of the amber nectar and was conceived in Dublin. The Trouble is a brooding affair with the reckless abandon of, "Too high in the saddle and too much spur."
There are big ballads and softer rockers too. Of the latter, Summer, which finds Clint getting some of the peace of mind so desperately sought in the opener, with a soaring chorus to match the lyric, is outstanding. Stay Gone, meanwhile, is a string laden ballad with a surprising bite. There's also the soulful duet with Lisa Hartman Black, Clint's wife, on Still Get To Me. More reflective ballads come in the shape of One Way To Live, the acoustic paean to undying love, inspired by his daughter, of Breathing Air. Then there's the love still to be found in Right On Time and the looking back on love reminiscences of The Last Day.
It's a typically high quality and mixed set, but if you want to talk about gifts, then Clint's is the one that keeps giving. He has a track record that puts most to shame and an unbelievable string of country hits to his name. His first album alone delivered five Country Chart topping singles and from the 100 odd songs he's written, a quarter of them have followed suite. Crucially they are all his own compositions as he's bucked the Nashville trend and only recorded one song that wasn't his own, or co-written with Hayden Nicholas.
He's also a fine musician, producer and a pioneer. While he generally plays guitar live, he's also a drummer, bassist and fine harmonica player, the instrument that he first learnt as a child. Clint has produced himself and others, bucking another Nashville norm to go fully independent, setting up his own record company and signing other artists to his Equity music Group. Clint has also taken to acting making his first silver screen appearance in the film version of Maverick back in 1994.If the hat fits…
But the hat that really fits is the one tailor made for the titan of Texan country music, who with over 20 million album sales under his belt and a trophy cabinets worth of awards, who is one of the most successful American singer-songwriters of any genre. This latest album is a statement. On Purpose and with purpose, Clint doesn't do anything any other way. How cool is that?