Scott Matthews
'86 Floors From Heaven'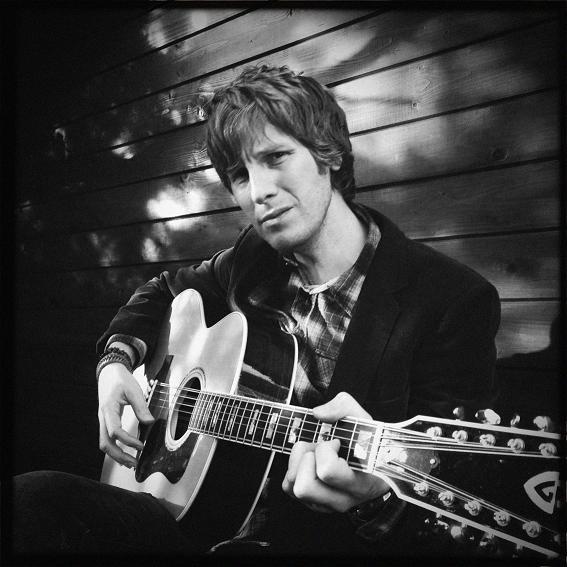 The story of Evelyn McHale and the iconic photograph by Robert C. Wiles made it's way into the only piano-based song on the album.
In 1947 a 23-year-old Evelyn jumped from the 86th floor of the Empire State Building, ending her life atop a crumpled Sedan in a New York street below.
I clearly remember the first time I laid eyes on the extraordinarily profound image, via a '70s Life annual.
This was a birthday present from my friend, Mick Burrows, with a message inside the front cover prompting me to "check out page 104 – one of the most incredible photos ever!!!"
Like millions of other people, the image both inspires and saddens me a great deal.
I lived with Evelyn's peaceful expression and my thoughts for more than twelve months before I felt compelled to write a song about her story.
I'm sure the photograph will have the same effect on people in a hundred years from now.
 Scott Matthews – September 2014.
In regards to the relationship between the music and the film: I think it's important  when making a video that you do not give easy answers.
A director must trust in the listener or  the viewer to understand from the video what happened and if he/she has interpretations of their own and which are not necessarily what you had in mind while making the video, it doesn't matter.
What matters is that you have made something that made others think and made those people spend their most valuable asset, time, to reflect on it and to find the visual connection with the lyrics and between the song and the visual on their own.
Also hopefully they see new elements to solve the puzzle each and every time you watch the video over and over again.
For the creative idea, I didn't just want to recreate the day of Evelyn.
In the six minutes, I wanted to recreate the times when that day happened.
I think that using vintage footage makes you reflect and become more immersed through seeing people that actually lived in those times.
Maybe even some of them knew Evelyn. Maybe they saw the jump.
You will never know and yet it is possible. It even makes for a great story itself.
Also there is always something extremely melancholic and nostalgic about seeing buildings the way they were back in the day; to see young people full of dreams and hopes, knowing that most of them are long gone now. That's almost surreal when you think about it and this surreal feeling continues in shots with "our" Evelyn.
I wanted this video, this song to stay with our viewer long after they stop watching.
Lukasz Pytlik – Director
September 2014 
Watch '86 Floors From Heaven' here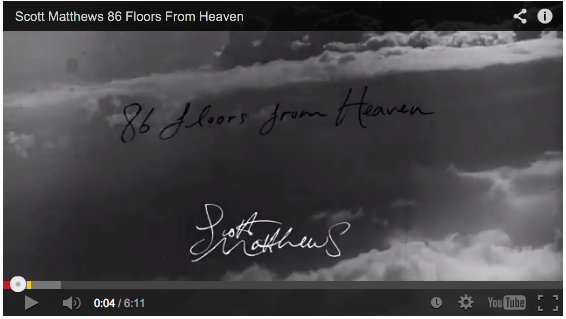 Scott Matthews's website : http://scottmatthewsmusic.co.uk
Scott Matthews's facebook : https://www.facebook.com/ScottMatthewsUK
Scott Matthews's twitter : https://twitter.com/scottmatthewsuk
Scott Matthews's youtube channel : https://www.youtube.com/user/UKScottMatthews