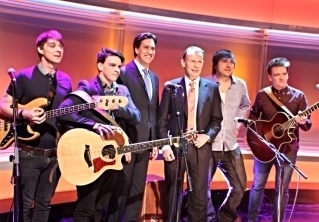 Sunday 19th January 2014, The Dunwells appeared on the BBC Andrew Marr show with Ed Milliband and featuring an interview with Putin.  The Leed's Band's performance was introduced as "One for Ed Milliband, 'I Could Be A King'?" by Andrew Marr who also highlighted the band's British take on Americana music.    The band are currently in the studio with Stephen Harris working on their forthcoming new album and announced a British tour this week for April 2014.
The Dunwells are brothers Joe and Dave Dunwell along with cousins Jonny Lamb and Rob Clayton.  Having spent their formative years playing around Leeds, and honing their chops in the clubs, their first big break came when they hit the shores of the US in 2011 to perform at the Folk Alliance Conference in Memphis, TN.  Their impact was nothing short of astounding, and led to the band being signed to Austin based indie Playing In Traffic.  This, in turn, led to a co-deal with the respected  LA based independent Concord Music Group (Paul McCartney, Valerie June, Alison Krauss).  
The fairytale continued throughout 2012 and 2013, as The Dunwells' swift rise developed through endless touring, an appearance on The Tonight Show with Jay Leno as well as packed out shows at Red Rocks, CO, the Levitt Shell in Memphis, and the Rock Boat. They also appeared at major festivals in both the US (Lollapalooza, Austin City Limits, Bunbury) and the UK (Cropredy, HMV's Next Big Thing, The Great Escape).
The Dunwells create a unique blend of emotionally driven, anthemic rock, featuring signature four part harmonies for which they have become known. Their appeal is widespread, with influences that range from Foy Vance and Crowded House, to Fleet Foxes and Elbow.  The band is looking forward to the upcoming UK tour and sharing new music with their growing legion of fans.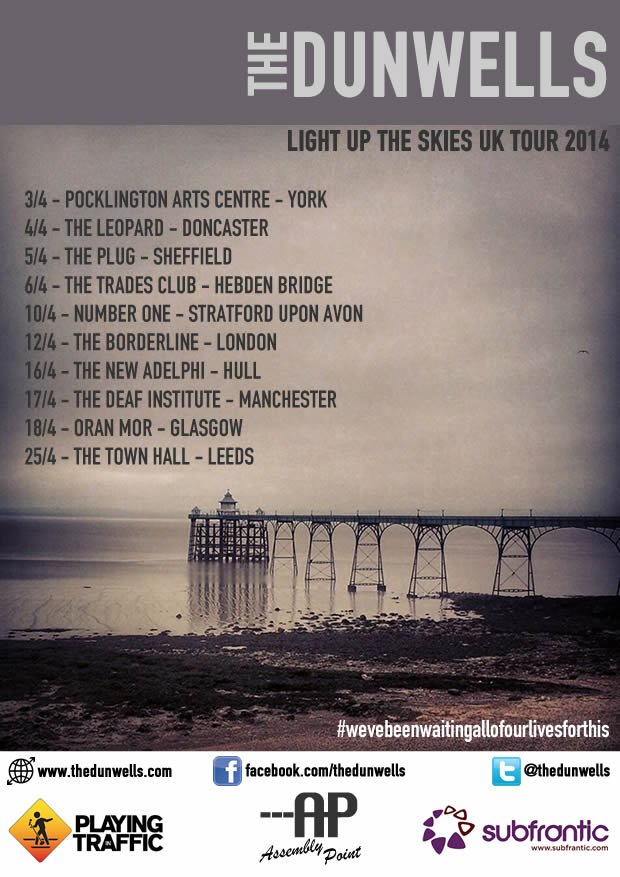 For Further information please contact Sara Silver
sara@silverprojects.com
+44208 265 0772