"A few minutes ago every tree was excited, bowing to the roaring storm, waving, swirling, tossing their branches in glorious enthusiasm like worship. But though to the outer ear these trees are now silent, their songs never cease." – John Muir
The five members of Elephant Revival share a deep commitment to certain ideals: community, recognizing one's place in the flow of the natural world, harmony. Holding on to those ideals in the midst of heady career growth and strong individual creative forces could be difficult, but they weather these storms with aplomb, and in doing so, have produced their best album to date. It is a document about striving for transcendence under These Changing Skies.
Elephant Revival formed on the banks of Spring Creek in Tahlequah, Oklahoma and then relocated to Nederland, Colorado in fall of 2006. They loved one another's sense of shared values and the way that their disparate musical influences began to form a more cohesive tapestry the more they played together. "It really is a natural confluence of our elemental influences," says bassist/multi-instrumentalist Dango Rose. Those elemental influences extend beyond the musical to a world view that is expressed not only through the music, but in their lyrics. That world view is connecting with fans: the band is a favorite at festivals such as Telluride and Old Settlers and is selling out theaters in their native Colorado as well as legendary rooms such as Joe's Pub in NYC, The Ark in Ann Arbor and The Tractor Tavern in Seattle.
For a band of five individuals, all of whom contribute songs, there is a consistency in expressing those shared values. In the song from which the album's title is culled, "Remembering A Beginning," Bonnie Paine, one of the band's three primary vocalists and multi-instrumentalist, sings of the unity of all things ("There's a fire burning, in the middle of this turning/Wild and yearning/For everything, for everything/Remains inside, these changing skies/Through waves in time/Remembering"). The changing skies that she refers to are only changing in the context of outward perception; the very stuff of the universe, the energy, the matter, remains. "If we could really get to root of that," says Paine, "we would have a lot less interpersonal and environmental struggle." Paine also touches on a theme that is ever present in any discussion with any member of the band, that being the idea of intentionality, in the song "Willing And Able" ("I am willing and able/In the silence of our loving/All in all is recognized/Clearly knowing our intention"). As she explains, "We all clearly shape our willpower, and we try to be as loving and conscious as possible." Paine is from Oklahoma and spent many years under the tutelage of and as a member of the backing band for the legendary Randy Crouch, who she considers the earliest important and most lasting influence on her musical sensibilities.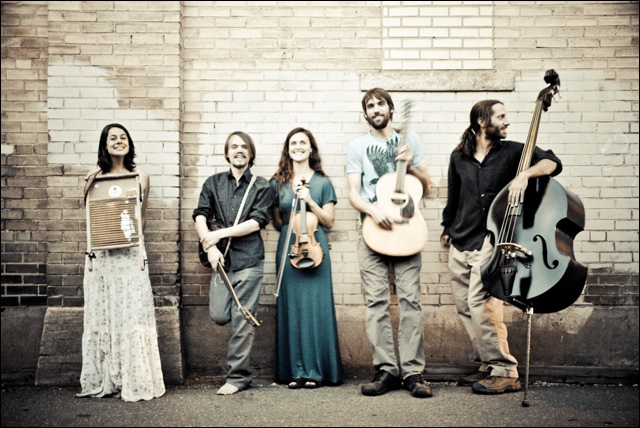 Singer/guitarist Daniel Rodriguez also explores the theme of living on the surface of perception while deep mystery is all about in the album's lead track, "Birds And Stars." He recognizes the distance between the state of human awareness and the more transcendental state that the members of Elephant Revival strive for ("The love in you it runs so deep/Upon the surface here I sleep/Walking the dark and light/Walking all the day and night") and ends with an exhortation for the listener to reject the temporal and embrace the ecstatic ("So…out from your slumber/Into the wonder/Under the starlight and dance, dance"). Rodriguez also penned and sings the band's first single from the album, "Grace Of A Woman." In this song, Rodriguez both pays homage to the physical sacrifice that women undertake that allows us all to be here, but also to the female energy, both loving and creative, that balances out the male energy that so dominates the present world, all wrapped in an infectious tune that is utterly joyous. Rodriguez, as have all members of the band, has sacrificed material comfort for the sake of the dream of playing music. After a stint as a college basketball player, he committed to music, running sound at a club (where he met Paine after a show she played there; they climbed on to the roof of the club and played music until the sun came up). After the club closed, he went west to join Paine and the other, living for a time in a truck and for a time in a teepee.
Singer/banjoist/multi-instrumentalist, Sage Cook, spends a little more time in the world, lyrically speaking, adding a more direct narrative sensibility to the band offerings. In "It's Obvious," Cook channels the Occupy movement, after spending some time in Zuccotti Park right as the protest was in its formative stages. Cook affirms that the power of the people to be cast asunder by the lure of consumer culture ("What's not bought is what's not made") and national identity ("I heard it through the walls of the station/Steel and stone could not confine us/Beyond above the boundaries of a nation/Still no stone could quite confine us"). "Over Over And" was penned in the aftermath of the Sandy Hook shootings with Cook struggling to comprehend the incomprehensible. Cook's sense of community started in the farming and ranching towns of his home state of Kansas, where music was part of the fabric of life, where Haggard, jazz and even the metal bands he listened to with his friends, influenced his sensibilities.
The band's use of folk idioms in their music is both indicative of their interests and upbringing. Fiddle player Bridget Law was born and raised in Texas and grew up playing in fiddle competitions when she was younger. "There is so much of that experience in what I bring to the band," she says, pointing out that the drive to be great was part of fiddle competition culture, but so was developing a sense of what would be pleasing to an audience, as well as developing the improvisation skills she brings to the band's live performances. "I still go to fiddle camp," she adds. She was also a ballerina for a time, and she brings the dancer's ability to channel energy through movement onstage.
Rose comes to the band from Chicago, where he was influenced by Chicago roots stalwarts Cornmeal as a teen and hanging around the Old Town School of Folk Music. He has been a voracious seeker of musical experience, also spending time in old time string bands in North Carolina and Colorado, as well as a tribal music community in Oregon. "As a band, we really, truly support one another. We've weathered the tribulations that come with getting in a van and being in tight quarters with the same five people, but we really have created this space where we feel safe with one another."
Adding his talents to the "natural confluence" was producer Ryan Hadlock (The Lumineers, Johnny Flynn, Gossip), who recorded the band at his Bear Creek Studios in Woodinville, Washington. "It was an amazing space to record in, a big barn with amazing acoustics," says Rodriguez. He adds, "The band is so tight knit that it took a couple of days for everything to gel with Ryan, but once it did, it worked beautifully. He's so sonically gifted and really captured things in the right way. The proof is in the music. We're very proud of this album."
Elephant Revival took its name from a news item that Rose had read where two elephants that had lived together for 15 years were separated by zookeepers. Within days, both had passed. The idea that one should recognize and celebrate the unseen connections of spirit that flows between all things on this Earth animates all the band does. These Changing Skies is not only great music, but a testament to the power of love and community.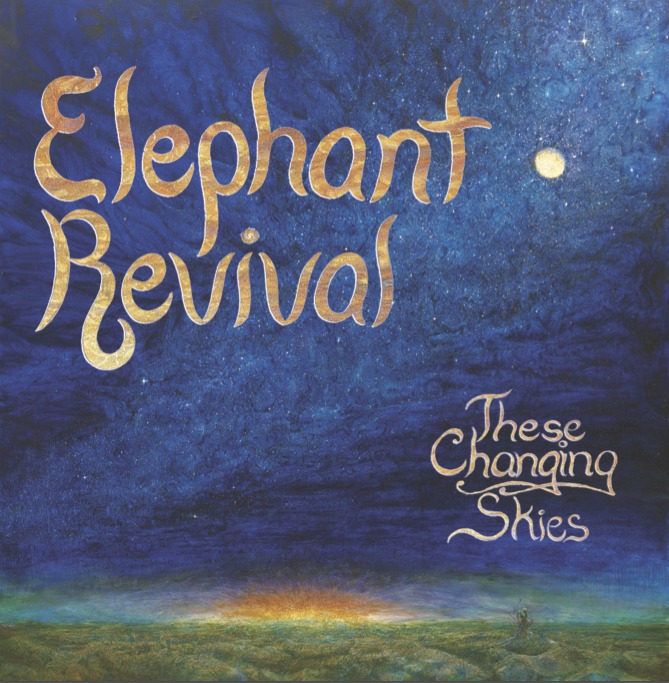 SEE THESE AMAZING PLAYERS!!!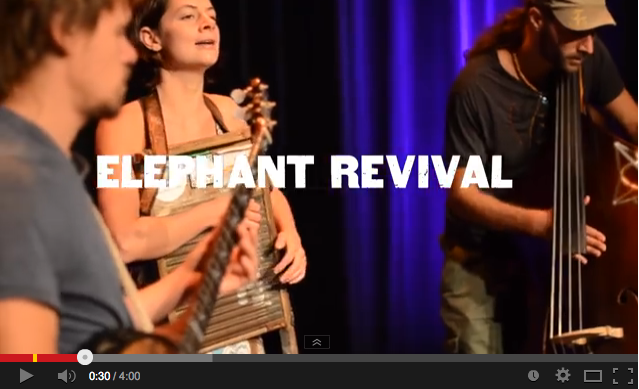 Elephant Revival UK & Ireland Tour
January 2014
Fri 24th           The Old Fruitmarket, GLASGOW (Celtic Connections Festival)
Tue 28th         Raheen House Hotel, Clonmel, Co, Tipperary, IRELAND
Wed 29th        Garter Lane Theatre, Waterford, IRELAND
Fri 31st            Royal Native Oyster Stores, Whitstable, KENT
February 2014
Sat 1st           The Gulbenkian, University of Kent, CANTERBURY
Sun 2nd         The Lexington, LONDON
For more information about Elephant Revival, contact Sara Silver
sara@thirtytigers.com +44 (0)20 8265 0772