Thirty Tigers is proud to present
Watkins Family Hour
– an acclaimed musical collective –
new album to be released August 7.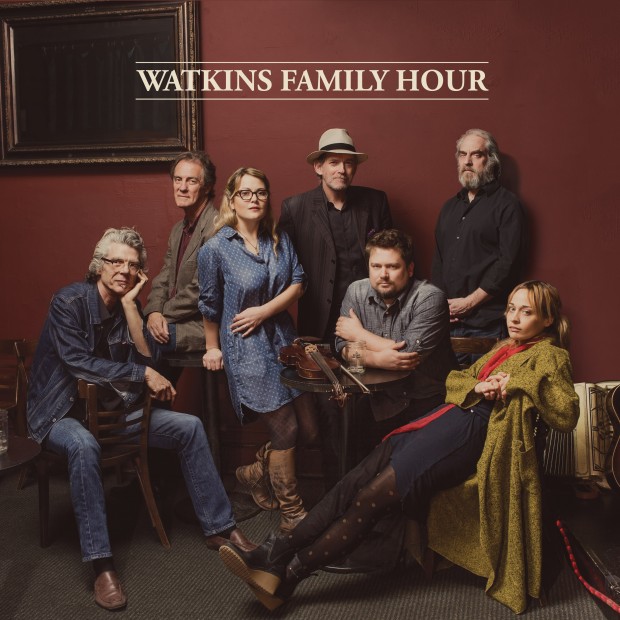 Watkins Family Hour—an acclaimed musical collective featuring siblings Sara and Sean Watkins along with Fiona Apple, Benmont Tench, Don Heffington, Greg Leisz and Sebastian Steinberg—will release their debut, self-titled album August 7 on Family Hour Records via Thirty Tigers. Watch the album trailer here. Additionally, in celebration of the release, the collective will take their "variety show of epic proportions" (Los Angeles Times) to cities across the U.S. this summer kicking off with a performance at the Newport Folk Festival on July 24. Tickets go on sale this Friday. See below for complete details.
The album, recorded live over three days in the studio of their friend and producer-engineer Sheldon Gomberg, captures the freewheeling spirit of the collective's live shows. Watkins Family Hour is an all-covers affair; tracks include Sara doing Fleetwood Mac's "Steal Your Heart Away," Sean essaying Roger Miller's wistful "Not In Nottingham," from Disney's 1973 animated Robin Hood, and Apple singing "Where I Ought To Be," originally performed by Skeeter Davis.
Of the album and tour, Sara comments, "Taking the Watkins Family Hour on tour and releasing this record feels like the right next step. The show is about a community of players and that community stretches across the country. If we can't get everyone to L.A. to do our show, we'll come to them. We are coming to towns where we have friends and we can have those moments, even if it's not our home club. It's the people on stage who make that happen; it's just a matter of getting the right group of people together. We are being thoughtful about where we are going so we can have that sort of flexibility. It will be a very different show in every town."
Watkins Family Hour began in 2002 as a monthly musical residency hosted by Sara and Sean and held exclusively at Los Angeles' Largo at the Coronet. Of the performances, Forbes praises, "This combination of seeing a marquee talent, the element of surprise and the congeniality of an evening of friends makes for a great night out, where the artists appear to be enjoying themselves, and enjoy seeing their friends perform. It feels like a 21st Century version of the Greenwich Village folk scene at clubs like the Bitter End in the 1960s. Mostly, what it feels like is—well—like Largo," while American Songwriter asserts, "Inside the Largo, a funny thing happens: along with her brother, Sean, and friends like Fiona Apple and Jackson Browne, Watkins leads an evening of folk tunes, bluegrass jams and good old-fashioned musical revelry, a joyful room that brings wailing voices and acoustic strings to an electric city…"
Tracklisting
1. Feelin' Good Again
2. Where I Ought To Be
3. Not In Nottingham
4. Steal Your Heart Away
5. Prescription for the Blues
6. Going Going Gone
7. Hop High
8. She Thinks I Still Care
9. The King of the 12 Oz. Bottles
10. Early Morning Rain
11. Brokedown Palace
To listen to the music, click on the link below:
Watkins Family Hour – "Steal Your Heart Away" Teaser