Will Hoge returns with his brand new album
'Small Town Dreams'
along with September 2015 UK Tour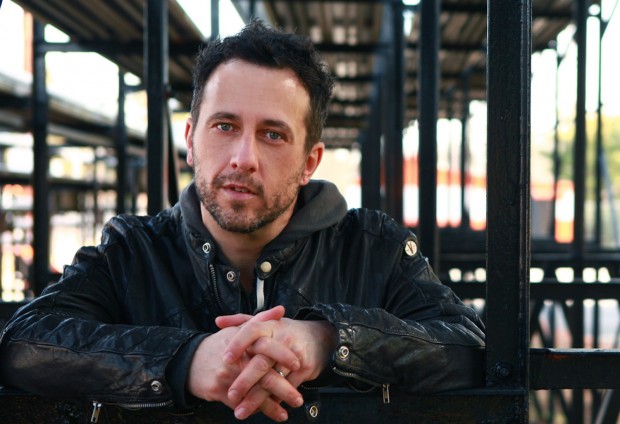 If Will Hoge wasn't a country singer, he might have been a character in a country song. The Nashville native has done some hard travelling, clocking up thousands of miles down lonesome highways, chasing the American Dream and the spirits of his heroes, the storytellers who tell all our stories. Stories that are vividly realised on his tenth album, Small Town Dreams, a landmark in his evolution as a writer to be reckoned with, someone whose minimalistic language and granular delivery embodies Hank Williams' narrative acuity, Bruce Springsteen's everyman sensibility and Steve Earle's unflinching truthfulness.
"It's a reflection of where I am currently in my life, but also where I grew up and, ultimately, where I'm going," says Hoge.
The personal becomes the universal on 'Middle of America', about the moments, good and bad, that bring us together. 'Guitar or a Gun' finds a young boy in a pawn shop confronted by a dilemma – should he buy a guitar or a gun? "One can feed your family, and one will end you up in jail", sings Hoge in a voice that suggests the deal could go either way. And 'Small Town Dreams' itself – inspired by a childhood photo that Hoge came across while visiting his mother – is a renewal of the callow faith in possibility we all possess before being disabused of such a notion.
"I started thinking about all the people I had lost contact with, and how, at that age, everybody in that photo truly believed they could do anything they wanted to, and that those sort of small town dreams are possible," Hoge explains.
His own small town dream was to become a high school history teacher and basketball coach, before he decided to drop out of Western Kentucky University and pursue the more fanciful dream of a life in music. Not even the lean years of driving from one venue to the next across America, or honing his craft in Nashville writing rooms, writing for himself and for others, dissuaded Hoge. The dream became a vocation, though that vocation was almost derailed when, in 2008, after leaving a studio session, his motor scooter collided with a van. Hoge was rushed to Vanderbilt University Medical Centre in a critical condition, sustaining numerous broken bones and lacerations to his face, arms and torso that required 200 stitches.
"At the time I had only been married for five or six months, and we had a nine-month-old little boy," he recalls.
"I had a career that was finally starting to go somewhere and that was almost bashed away. It changes and adds some perspective on how fortunate I am not only to have those things, but to just be healthy and happy. It was certainly a life-changing event."
In 2012, some 15 years after the release of his debut, Spoonful – Tales Begin to Spin, that vocation was validated when Hoge's 'Even If It Breaks Your Heart', taken to the top of the US Country Chart by The Eli Young Band, was nominated for a Grammy Award, and also a contender for both Country Music Association and the Academy of Country Music accolades in the Country Song of the Year category.
"That was monumental. As a writer and an artist, it opened so many doors and just changed the perspective of even people who knew me as a writer or liked me as a writer or artist. It just gave them sort of confirmation that they weren't crazy for that, and that there could be bigger things than what I had before."
A year later, Hoge joined forces with crack producer Marshall Altman, whose credits include Matt Nathanson's Some Mad Hope, Frankie Ballard's Sunshine & Whiskey, Eric Paslay's eponymously-titled debut. The idea to work with Altman was hatched on another late night drive, when Ballard's 'Helluva Life' came on the radio, followed by Paslay's 'Friday Night'.
"Neither of those sound like records I would make, but they both sound so uniquely them. So I called up Marshall at 2am – he was in the studio that late. We started the process of recording Small Town Dreams after that. He's part cheerleader, part conductor, part coach, part fan, all at the same time."
The resultant collection, which features a guest appearance by country stalwart Vince Gill on guitar, is arguably the most significant signpost on Hoge's odyssey so far – an odyssey that promises still greater things to come.

Tracklisting
1. Growing Up Around Here
2. They Don't Make 'Em Like They Used To
3. Better Than You
4. Little Bitty Dreams
5. Guitar Or A Gun
6. Middle Of America
7. All I Want Is Us Tonight
8. Just Up The Road
9. Desperate Times
10. The Last Thing I Needed
11. Til I Do It Again
Watch the official video of ' Middle Of America '
UK TOUR 2015 
SEPTEMBER
Fri 4th – The Stables, Milton Keynes
Tickets
Sat 5th – The Picture House, Sheffield
Tickets
Mon 7th – 02 ABC 2, Glasgow
Tickets
Tues 8th – Night & Day, Manchester
Tickets
Thurs 10th – Bush Hall, London
Tickets
Fri 11th – The Portland Arms, Cambridge
Tickets
Sat 12th – Green Door Store, Brighton
Tickets