Bhi Bhiman returns to Europe, June 1st, on tour to launch his brand new crtically acclaimed album "Rythm & Reason" .
"I'm moving to Brussels / I'm moving to Spain / I'm moving to Haarlem / It's all the same…"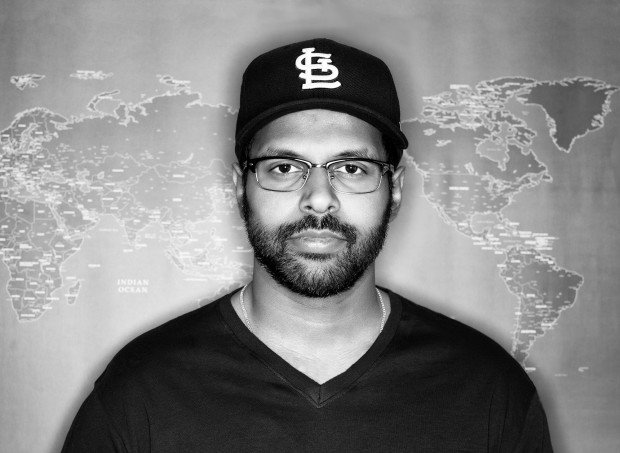 "Tamil-tinged Americana with guts and smarts"
– The Guardian 
"What a voice!"
–The New York Times
One never knows where inspiration will strike. For Bhi Bhiman, the seeds of the soul, funk, and R&B narrative featured in his new album Rhythm & Reason were planted when he arrived in Brussels during a European tour with Rosanne Cash.
Bhi recalls the moment: "As soon as I got off the plane, I noticed a lot of African immigrants, and I started thinking about what had made them leave their countries. My parents are immigrants so I'm sensitive to that experience." These reflections would find voice in "Moving to Brussels", which Bhi describes as "an immigrant's story disguised as a breakup song— a Dear John letter to their native country".
Connections like these are a hallmark of the whole album. Bhi notes that the song cycle is "deliberately broad. It could be about an immigrant or just an outsider in general – someone on the fringe." While his songs often touch on political issues they rarely offer a simple view. Bhi explains, "I like to look at both sides of the coin. Sometimes the unpopular view is the most interesting to write about."
A major change in Bhi's life and a new inspiration for his songs came about when he became a father. The theme of family is strong in Rhythm & Reason. "A lot of this album was written while my wife was pregnant" he says. "Now we have a nine-month old. Seeing her grow and become a person changes your perspective on everything." "Bennie Please" is a lullaby melody about a poor mother trying to get her hungry child to sleep. "Bread and Butter" sees our narrator coming home and enjoying the contentment with his family, in the face of the temptations of the seven deadly sins.
Bhi never forgets the creed of the concert performer. He elaborates, "That's something that I work hard for: being entertaining first and foremost." The beauty of it is that this is an album to which you could bob your head without noticing— much less worrying about —the social commentary or even the details of the stories. Bhi adds that, "Most of the tracks could be heard as love songs, but there are a few exceptions", The bitter lyrics of The Fool, which was written with the Sri Lankan civil war in mind, is also an deep soul cut about having the wool pulled over one's eyes in a relationship.
Exploring soul and soul-based music came naturally to Bhi and critics laud his talents both as a singer and guitar player. The New York Times' Jon Caramanica wrote, "What a voice Bhi Bhiman has: full-bodied and brawny but delicate." These gifts are on display in the deep grooves of "Death Song," a minor-key hip hop-influenced number, the syncopated funk drumming of "Bread and Butter", the horn-driven "Closer To Thee", or the double-time "Waterboarded (In Love)".
Bhiman lights up when asked about his influences for Rhythm & Reason. "Bill Withers' Just As I Am, produced by Booker T. Jones, was a particular inspiration. The What's Going On album was a big deal to me. Sly Stone, The Staple Singers, they all had something to say but but it was about the music above anything else."
Rhythm & Reason was produced by Sam Kassirer (Lake Street Dive, Josh Ritter, Langhorne Slim) at his Great North Sound Society studio in rural Maine. Bhi recalls, "Sam has a great perspective. He comes from a jazz background so we were able to meet somewhere in the middle." Mike Calabrese from Lake Street Dive plays drums on several tracks while friends of Kassirer and Bhiman join on other songs.
Despite some of its more serious notes, Bhi's sense of humor still strikes through on Rhythm & Reason. "The Color Pink", which is about religious paranoia, finds Bhi pleading for sanity. As he describes it, "it's Pop Staples meets Jerry Falwell".
"Waterboarded (In Love)" is also darkly funny. As Bhi explains it, "The hook was supposed to be a placeholder. But then I started writing lyrics about a man being interrogated by a jealous lover. I liked that metaphor because on the surface, it uses a hot-button term and it makes you uncomfortable. But, comparing love to torture really is nothing new. The connection to the current debate about 'enhanced interrogation techniques' just struck a chord with me."
Bhi was born and raised in St. Louis, MO, the son of Sri Lankan Tamil immigrants. He drew on his family's experience in reflecting on the circumstances of immigrant families—including the xenophobic cold shoulder they often encounter.
Tracklisting
1. Moving to Brussels
2. There Goes the Neighborhood
3. Bread & Butter
4. Bennie Please
5. Up In Arms
6. Death Song
7. The Color Pink
8. Waterboarded (In Love)
9. The Fool
10. Closer to Thee
You can listen the music by clicking the link below

European Tour
with Lord Huron
June 01 – Pop up du Label – Paris, France
Tickets
Headline:
June 02 – The Islington – London, United Kingdom
Tickets
June 03 – KOKO, London, United Kingdom
Tickets
June 04 – Brudenell Social – Leeds, United Kingdom
Tickets
June 05 – King Tut's – Glasgow, United Kingdom
Tickets
June 06 – Whelan's – Dublin, Ireland
Tickets