Stephen Kellogg
Returns to Europe on tour mid October
Stephen Kellogg
"Ask any group of people if their life has gone 'exactly as they planned' and one person (usually recently engaged) will raise their hand and say 'yes.' Well this song is for everybody else! In my own search for forgiveness for the things I've done of which I'm not proud, I've found that it usually begins and ends here. With a willingness to forgive oneself and others. It seems to be the lynchpin that connects the things that go wrong in our daily lives to the hope and redemption we're all looking for."
UK and EU Tour Dates
10/16 Dublin, IRE- Whelan's Upstairs (SK headline)
10/17 Brighton, UK- Komedia Studio Bar
10/18 Bristol, UK- Louisiana
10/19 Glasgow, UK- King Tut's
10/20 Manchester, UK- Gulliver's
10/21 London, UK- Bush Hall
10/23 Brussels, BE- Witloof Bar
10/24 Nijmegen, NL- Doornroosje
10/25 Amsterdam, NL- Bitterzoet
10/26 Hamburg, GER- Prinzenbar
10/27 Cologne, GER- Studio 672
10/29 Oslo, NOR- Parkteatret
10/30, Stockholm SWE- Nalen
jjjj
 Stephen Kellogg will be touring with Gregory Alan Isakov
Stephen Kellogg claims that when he was growing up, his musical interests were divided between his father's record collection, devoted to '70s singer/songwriters like Jim Croce and Cat Stevens, and his sister's rock & roll discs, dominated by hair metal acts such as Bon Jovi and Mötley Crüe. In a curious way, Kellogg's music represents a meeting point between these two styles, with songs that delve deep into the personal, but make room for a sense of fun, while the music, which is intelligent and intimate, is also full of passion and electricity. Kellogg was born in Westchester, PA, and he began playing music in high school, singing in a hard rock band known as Silent Treatment. After graduating from high school, Kellogg enrolled at the University of Massachusetts in 1995, where he studied communication and theater, but his passion for music traveled with him, and he began performing on weekends with friends Darian Cunning, Tim Edgar, and Tim Newton. Kellogg also began working on his songwriting during this period, writing and recording solo acoustic demos, and when he graduated from college, he found himself working at the Iron Horse Music Hall, a celebrated venue in Northampton, MA, which inspired him to take a serious shot at making music his career. Kellogg began playing gigs anywhere and everywhere he could, and in 2000 he self-released his first album, South of Stephen, financed by his day job selling newspaper advertising. A second album followed in 2002, Lucky 11, which boasted a more pop-oriented sound, and Kellogg's busy performing schedule was helping him make a name for himself in the Northeast.
However, Kellogg's fortunes made their biggest change when he put together a band to accompany him on-stage; the Sixers, comprised of Brian Factor on drums, Keith Karlson on bass and keyboards, and Chris Soucy on guitar, added a new fire and enthusiasm to Kellogg's concerts, and they helped make his 2004 album, Bulletproof Heart, his breakthrough release. Thanks to heavy touring, Bulletproof Heart became a strong seller at shows and in independent record stores, and the band's growing fan base caught the attention of Universal Records, who signed the band to their Foundation imprint and released Stephen Kellogg and the Sixers in early 2005; early copies of the album were packaged with a bonus EP, One Night in Brooklyn, recorded during a 24-hour session with a handful of friends, including former Whiskeytown members Mike Daly and Caitlin Cary. While the self-titled album fared well with fans, Kellogg and the Sixers soon parted ways with Universal, and for their next studio album, 2007's Glassjaw Boxer, the group partnered with the independent label Everfine Records, best known as the home of popular jam band O.A.R.
" I'm thirty-six years old. I say that I'm from Northampton, MA because that's where I got my start, though now I live in Southern Connecticut. I've spent the better part of the last ten years on the road or in the studio, but I have four daughters and a beautiful wife  too. I asked if I could write my own biography, partially because it saves money, and I figured if someone wanted to learn about me, I'd just as soon tell them myself.My music has been described as Americana, Country-Rock, Folk, Singer/Songwriter, and, somehow, pop. I have always thought of it as American-rock n' roll. It's a product of my father's record collection, from Jim Croce and Cat Stevens to Eagles and The Band. Somewhere along the way, I fell in love with showmanship and acts that put on great concerts. Sometimes that meant Van Halen, other times it meant the Grateful Dead, and most recently it's probably more to do with John Prine. For what it's worth, Tom Petty is my favorite artist. Although it's been pointed out to me by one quite popular publication that I'm "no Bruce Springsteen", I've decided to continue making music anyway (I'm laughing as I write this in case that's not clear).The thing is…I fell into this job. I like people. I like sharing a world-view. I don't mind singing and playing guitar, but I never expected that I'd do it for a living. Like a lot of folks, I think I just figured I wasn't good enough or that maybe it wasn't possible. The fact remained though that I needed a way to provide for my family, presumably just like those of you reading this biography (or for the younger generations, the same way your parents have). Ultimately writing songs and playing them for people has become that living. There are many occupations for which I have immense admiration – doctors, soldiers and teachers topping the list. But there isn't another job I think I'd necessarily be suited for, so this is what I do.
In November of 2012, my band of the last ten years decided to take a hiatus. We performed our final show at Webster Hall in New York City for three hours and said goodbye for now. 2012 also took with it my mother-in-law and my grandmother. Most of this happened in late Spring, when my house was under renovation; the foundation was still there, but the house was literally ripped apart. Some metaphor, huh? 2012 was a year of change if nothing else. The musical result of this tumultuous period is Blunderstone Rookery. The title comes from the boyhood home of my favorite character in my favorite book, "David Copperfield".
I produced Blunderstone Rookery in conjunction with my long-time musical collaborator, Kit Karlson. Mike Mogis (Bright Eyes, Monsters of  Folk) mixed the album. We chose to make the record in Bridgeport, Connecticut because, after making the last few in Los Angeles and New York, I really wanted to work on home turf. The music was played by a number of friends of mine, some of them play in bands you may have heard of (Travis McNabb and Annie Clements from Sugarland, Sean Watkins from Nickel Creek, Jerry DePizzo from OAR), and many of them, including me, you may not have heard of. I loved working on Blunderstone Rookery more than any album I've ever made and it's my ninth studio effort. It was a fresh process. One that began with the exciting notion, "what if I say exactly what I want to say" and ended with me handing my father a vinyl copy to add to his record collection.
That, after all, is why I do this.
Using words and intention in the hopes of a positive legacy for my family. "
Stephen Kellogg

Tracklisting
1. Lost And Found
2. The Brain Is A Beautiful Thing
3. Forgive You, Forgive Me
4. Men & Women
5. Crosses
6. I Don't Want To Die On The Road
7. Good Ol' Days
8. Good Red Wine
9. The Best
10. Thanksgiving
11. Ingrid's Song
jjj
Here is a recent live eTown performance of ' Forgive You, Forgive Me '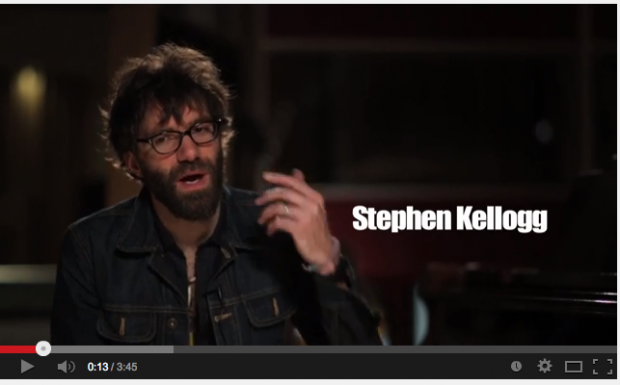 jjj
Watch Stephen Kellogg at TEDxConcordiaUPortland