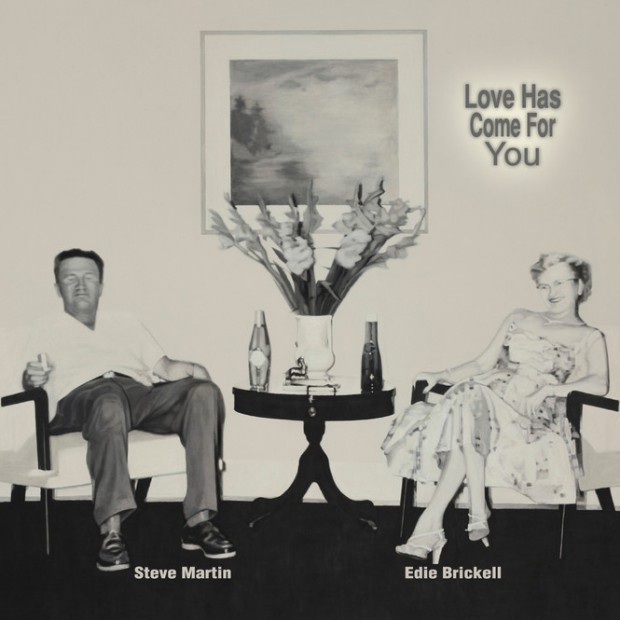 ALBUM DUE OUT ON ROUNDER RECORDS APRIL 22nd
http://mediakits.concordmusicgroup.com/p/lovehascomeforyou/
– Rounder Records will release Steve Martin and Edie Brickell's inaugural duo effort "Love Has Come For You" on April 22. The remarkable new collaboration offers 13 eloquently rootsy compositions that combine Martin's inventive five-string banjo work with Brickell's distinctive vocals and vivid, detail-rich lyrics.  "Love Has Come For You" is a substantial departure, as a well as a creative milestone, for both artists.
"This is the kind of music that I've always wanted to make, but I never knew how until now," Brickell states, adding, "I just fell in love with all of these songs, because they all represent something that's true."
The album features deeply evocative songs such as "When You Get to Asheville," "Sarah Jane and the Iron Mountain Baby," "Remember Me This Way," "Fighter," as well as the haunting title track. Each tune offers playful, resonant character studies, conveying a wealth of imagery, emotion and musical ideas within spacious, mostly acoustic arrangements and irresistibly accessible tunes.
"The banjo can be so evocative when it's used sparingly, and that was in the back of my mind as we were writing," says Martin.  "It's the way I've longed to play and hear the banjo, rather than it being present at every moment. In these songs, the point is to tell the story and get out."
Produced by studio legend Peter Asher (James Taylor, Elvis Costello, Linda Ronstadt) "Love Has Come For You" also features notable players including rising-star bassist Esperanza Spalding, veteran studio guitarist Waddy Wachtel and Nickel Creek alumni Sara and Sean Watkins.  The album also features the esteemed bluegrass combo the Steep Canyon Rangers with whom Martin recorded his latest Grammy® nominated albumRare Bird Alert with and has toured extensively.
Steve Martin is currently in the fifth decade of a uniquely varied and accomplished career in which he's excelled as a comedian, actor, author and playwright, and as a Grammy-winning, boundary-pushing bluegrass banjoist and composer.  Martin's debut album The Crow: New Songs for the Five-String Banjo won a Grammy for Best Bluegrass Album in 2009. Since bursting onto the national scene in the late 80's, Edie Brickell has carved out an iconoclastic solo career that's solidified her reputation as a uniquely compelling singer and a songwriter of rare insight.
"I think that the goal of any collaboration should be to come up with something that each individual wouldn't have come up with on their own, and I think that we've done that here," says Martin.
Tour dates in the USA for Steve Martin and Edie Brickell will be announced soon.