Thirty Tigers is extremely proud to announce the release of Lucinda Williams' brand new double album
"Down Where the Spirit Meets the Bone"
this week!
see the rave reviews… 

Lucinda Williams
jjjj
"…her new double-album may be the best work of her career"  THE INDEPENDENT – ALBUM OF THE WEEK, 5 STARS  
SUNDAY EXPRESS – ALBUM OF THE WEEK, 5 STARS
MAIL ON SUNDAY (EVENT MAGAZINE) – 4 STARS
DAILY MIRROR – 4 STARS
"This is prime Lucinda Williams"  THE SUN, 4.5 OUT OF 5
"…the Louisiana-born singer-songwriter on top form.."  F.T. 4 STARS
" A 20-track album that scarcely dips in quality across more than 100 minutes of blues, country, folk, pop and soul"  SUNDAY TIMES (CULTURE) 
"..her resilience demands respect"    INDEPENDENT ON SUNDAY
"an intimate, end-to-end, night-drive companion"  Q MAGAZINE – 4 STARS
MOJO – 4 Stars 
UNCUT  – 8/ 10
As a rule, you can divide music into three categories — the kind that aims for the head, the kind that aims for the heart and the kind that aims for the hips. Forging two of those connections at once is pretty impressive, but connecting on all three? That's a rare accomplishment indeed, one that Lucinda Williams manages on her 11th studio album, Down Where The Spirit Meets The Bone.
Down Where The Spirit Meets The Bone, the first release on Lucinda Williams' own Highway 20 Records label, is easily the most ambitious creation in a body of work that's long on ambition. Over the course of two discs, Williams leaves no emotional crevice left unexplored, drinking deeply from a well of inspiration that culminates with an offering that overflows with delta-infused country soul.
Williams wrings every drop of affirmation from uplifting tracks like the empowering "Walk On" (a loping paean to life's most sustaining aspects, the fleeting and the permanent) and every whit of dark beauty from songs such as "This Old Heartache" (a stark reminder that churning psychic waters can lurk beneath a placid surface).
"I felt like I was really on a roll when we started working on the album," says Williams, who produced the album with Greg Leisz and her husband Tom Overby. "I usually have enough songs to fill an album, and maybe a couple more, but when I started writing for this, the inspiration just kept coming, and the people I was working with kept telling me the songs were worth keeping. It's not like I was reinventing the wheel — there are only so many things you can write about, love, sex, death, redemption, and they're all here — but I felt like I was really in a groove here."
There's no disputing the immediacy of the set's offerings, both the most hard-edged (like "West Memphis," which extrapolates a hardscrabble landscape from the story of the wrongly-convicted West Memphis Three) and the softly caressing (the bittersweet "When I Look at the World"). As ever, she uses words to ensnare her audience, sometimes with an arm around the shoulder, sometimes with hands grabbing the lapels, and sonics to hold that crowd's rapt attention.
But here, Williams pushes herself as a vocalist as well, making the most of both her instrument's honeyed warmth and its sandpaper-to-the-soul toughness. She un-tethers herself more fully than she has in ages, or possibly ever. "I felt really comfortable and happy when I was singing, and sort of on my toes a little, since I was working with a lot of new musicians, not just my regular band," she says. "Putting different people together in different combinations, there was a lot of room to maneuver – a lot of room to make little changes that really made things click."
That list of "new musicians" is peppered with names that will be familiar to most rock and roll aficionados. This includes longtime Elvis Costello collaborators Pete Thomas and Davey Faragher, guitarist Bill Frisell, iconic Faces keyboardist Ian McLagen, guitarist Stuart Mathis from the Wallflowers, vocals from Jakob Dylan and the distinctive guitar tones of Tony Joe White. Her longtime rhythm section of David Sutton and Butch Norton provides a rock solid foundation on a passel of the tunes, and Leisz — who she credits as "the glue that holds the whole thing together" — adds ornamentation in all the right places.
While there's no shortage of eureka moments on Down Where the Spirit Meets the Bone, Lucinda digs deepest on "Compassion," which is based on a poem that was published in 1997 by her father Miller Williams — who read at President Clinton's second inauguration. She says the homage was a long time in coming.
"It was challenging, to say the least," she says. "For years, I've wanted to take one of his poems and turn it into a song. You really have to take the poem apart and put it back together, you can't just sing it as is. Tom had said he felt it might work with 'Compassion,' so I finally started working on it and came up with something. I told my father about it and he loved the idea, which made me really proud."
"He had always maintained that there's a clear differentiation between songs and poems. When I've shown him something I thought might become poem, he always just says 'Honey, I think it wants to be a song.'"
Lucinda Williams has been maneuvering down a path all her own for more than three decades now, emerging from Lake Charles, Louisiana (a town with a rich tradition in all of America's indigenous music, from country to the blues) having been imbued with a "culturally rich, economically poor" worldview. Several years of playing the hardscrabble clubs of her adopted state of Texas gave her a solid enough footing to record a self-titled album that would become a touchstone for the embryonic Americana movement – helping launch a thousand musical ships along the way.
While not a huge commercial success at the time – it went out of print and stayed there for years –Lucinda Williams (aka, the Rough Trade album) retained a cult reputation, and finally got the reception it deserved upon its reissue earlier this year. Jim Farber of New York's Daily News hailed the reissue by saying "Listening again proves it to be that rarest of beasts: a perfect work. There's not a chord, lyric, beat or inflection that doesn't pull at the heart or make it soar." In calling it "a masterpiece," Blurt magazine dubbed it "a discovery worth making and music that will live in your heart and mind long after the disk stops spinning."
For much of the next decade, she moved around the country, stopping in Austin, Los Angeles, Nashville, and turning out work that won immense respect within the industry (winning a Grammy for Mary Chapin Carpenter's version of "Passionate Kisses") and a gradually growing cult audience. While her recorded output was sparse for a time, the work that emerged was invariably hailed for its indelible impressionism — like 1998's Car Wheels on a Gravel Road, which notched her first Grammy as a performer.
The past decade brought further development, both musically and personally, evidenced on albums like West (2007), which All Music Guide called "flawless…destined to become a classic" and Blessed(2011), which the Los Angeles Times dubbed "a dynamic, human, album, one that's easy to fall in love with." Those albums retained much of Williams' trademark melancholy and southern Gothic starkness, but also exuded more rays of light and hope — hues that were no doubt imparted by a more soothing personal life, as well as a more settled creative space.
Those vibes come to the fore once again on Down Where The Spirit Meets The Bone. While she stays very much rooted in the here and now, Williams also conjures up the spirit of classic '70s country soul — the province of Dan Penn, Bobbie Gentry and Tony Joe White. The resulting warmth of tone gives the album a late-night front-porch vibe — one that could be accompanied by either a tall glass of lemonade or something a little stronger, all the better to let the sounds envelop the listener like a blanket of dewy air.
"I didn't set out to do a whole album of country-soul, but once I started working, a stylistic thread kind of emerged," she says. "It's a sound I can relate to, one that's really immediate and really timeless at the same time — kind of sad in an indefinable way. It's like something my dad said to me many years ago, something I wrote down and included in my song "Temporary Nature (Of Any Precious Thing)" because it was so profound to me — 'the saddest joys are the richest ones.' I think that fits this album really well."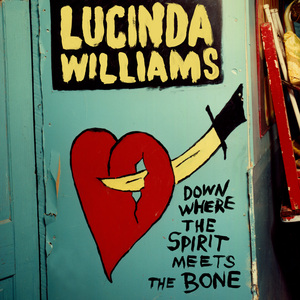 Tracklisting
CD N°1
1.

Compassion
2.

Protection
3.

Burning Bridges
4.

East Side of Town
5.

West Memphis
6.

Cold Day in Hell
7.

Foolishness
8.

Wrong Number
9.

Stand Right by Each Other
10.

It's Gonna Rain
CD N°2
1.

Something Wicked This Way Comes
2.

Big Mess
3.

When I Look at the World
4.

Walk On
5.

Temporary Nature (Of Any Precious Thing)
6.

Everything but the Truth
7.

This Old Heartache
8.

Stowaway in Your Heart
9.

One More Day
10.

Magnolia
jiji
Listen to the new single 'Burning Bridges' bellow: