"Extraordinary" 4 stars – Mojo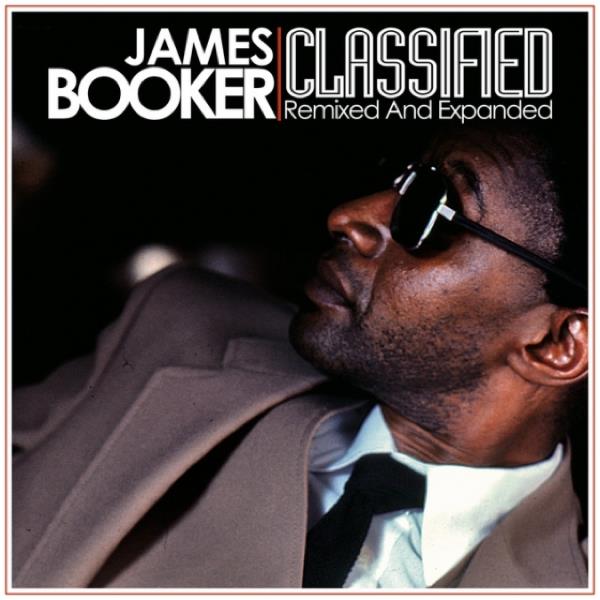 JAMES BOOKER'S CLASSIFIED: REMIXED AND EXPANDED PROVIDES DEFINITIVE GLIMPSE OF NEW ORLEANS PIANO LEGEND'S LATER CAREER
Package, available as CD and double-LP vinyl on Rounder Records on October 15
(International release dates vary), coincides with festival screenings of Lily Keber's film:
Bayou Maharajah:
The Tragic Genius of James Booker
NEW ORLEANS, La. — The Bayou Maharajah. The Piano Pope. The Ivory Emperor. The Bronze Liberace. Music Magnifico. Gonzo. The Piano Prince of New Orleans. James Booker coined more than a few extravagant nicknames for himself, and he lived up to every one of them.
James Carroll Booker III was also an unheralded genius of American music, a New Orleans pianist whose dizzying technique and mastery of the keyboard was matched only by his imagination and his soulfulness. His short and often flamboyant life was also marked by struggle and lost opportunity.
Classified, recorded in October, 1982, was one of only two studio albums released during his lifetime, and this remixed and expanded edition offers a poignant and often surprising look at his music, for if James Booker is often cited in the piano lineage that passes from Jelly Roll Morton to Professor Longhair to his own student, Harry Connick Jr., New Orleans tradition was only his jumping-off point.   Rounder Records will release James Booker's Classified: Remixed and Expanded. The expanded volume's 22 tracks, which include nine never-before-released performances, range from the pure rhythm and blues of "All Around the World," to the light classical "Madame X," to his astonishing version of the jazz standard "Angel Eyes." Among the unreleased songs is the slow blues instrumental, "I'm Not Sayin'," and his syncopated reading of Nino Rota's  "Theme From the Godfather." Whether playing solo or accompanied by saxophonist Alvin "Red" Tyler, bassist James Singleton and drummer Johnny Vidacovich, Booker ties together a giddy array of musical influences with virtuosity and an often quirky sense of humor. If New Orleans was the only place that could have produced such a talent and such a character as James Booker, the scope of his musical vision was boundless, and he stands alone in the New Orleans piano pantheon.
All Music Guide cites the original edition of Classified as arguably Booker's best album (even if that mythical collection may still reside in the live recordings his passionate fans have traded over the years). Three decades later, with the new material and dramatically improved sonics, it stands as a lynchpin in his discography.
Included are new notes by co-producer Scott Billington and several new photographs. Classified will be released both on CD and as a limited edition double-LP vinyl set. Lily Keber's film, Bayou Maharajah: The Tragic Genius of James Booker, has been playing to rave reviews, and that interest in James Booker is expanding beyond his devoted cult following.
According to Grammy Award-winning pianist George Winston, "James Booker and Professor Longhair and Dr. John are the three biggest influences and inspirations for the New Orleans piano renaissance that is happening more and more, and James's music is even more influential now than when he was alive. He is my biggest overall piano influence and has been since I first heard his recordings in 1982. It's so great to have everything here from his final studio sessions."
Track Listing:
1.  Classified
2.  If You're Lonely
3.  Warsaw Concerto*  2:47
4.  Lawdy Miss Clawdy (solo piano alternate take)*
5.  Medley: Tico Tico /  Papa Was a Rascal / So Swell When You're Well*
6.  All Around the World
7.  Angel Eyes
8.  Lonely Avenue*
9.  Professor Longhair Medley: Tipitina / Bald Head
10. King of the Road
11. Theme from The Godfather*
12. Lawdy Miss Clawdy
13. I'm Not Sayin'*
14. Hound Dog
15. All These Things*
16. Yes Sir, That's My Baby*
17. Baby Face
18. If You're Lonely (solo piano alternate take)*
19. Madame X
20. One For the Highway
21. Three Keys
22. Amen
*previously unreleased
To pre-order the album on iTunes click here
To tie in with the UK release,  the Bayou Maharajah Film will be screened at this years London Jazz Festival in November following edit screenings in Barcelona and the Cork Film Festival in October.