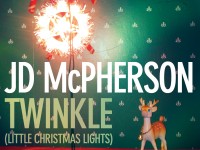 JD MCPHERSON RELEASES ORIGINAL CHRISTMAS SONG  "TWINKLE (LITTLE CHRISTMAS LIGHTS)"  AVAILABLE AT ITUNES DECEMBER 11
"NORTH SIDE GAL" VIDEO GARNERS OVER ONE MILLION VIEWS
"I have seen the future of the past, and his name is J.D. McPherson…Signs & Signifiers, a bracing collection of tailfin rockabilly, rawboned R&B, and sultry moonstruck balladeering. It is hands-down the feel-good record of the year."—Philadelphia Inquirer
"There was musical depth throughout the entire set, a connection to roots that felt electric and alive. In the capable hands of JD McPherson, everything old is new again."—Chicago Tribune
"…he and his bandmates are great musicians taking ownership of a sound,
not just mimicking one."—Washington Post
Recently named "Artist to Watch" by Rolling Stone, JD McPherson is set to perform his original Christmas song, "Twinkle (Little Christmas Lights)" on the "Tonight Show with Jay Leno" December 13. The track premiered today on RollingStone.com – http://rol.st/VdI1Gu– and will be available at iTunes December 11. McPherson will also perform "Fire Bug" from his critically acclaimed album, Signs & Signifiers, on "Late Show with David Letterman" December 4.
"I love the whole of Christmas: lights, cold weather, sentiment, poinsettias, baby Jesus, popcorn laurels, Santa," says JD of the track. "I even admire the well-tuned machine of commercialism. There are loads of holiday songs—only a handful of rockin', rollin' Christmas songs, though. So, here's our offering."
Lauded as "a sound that is vibrantly reminiscent of 50s after hours dancehall hits mixed with angsty tunes to appease the most brooding bluesman," (Yahoo! Music) JD and his band have blazed the country this year with his "timeless, forward-thinking rock & roll" (Rolling Stone). His self-directed video for "North Side Gal" has garnered over a million views to date.
Hailing from Broken Arrow, OK, the former art teacher traveled to Chicago to record Signs & Signifiers at Hi-Style studio, which is housed in the attic of producer/bassist/studio owner Jimmy Sutton's home and is 100% analog. "I have recorded this style of music in the digital realm, and it just doesn't quite "sing" as much. Slamming that ¼" tape really hard produced the most beautiful distortion I've ever heard," says McPherson.
Featuring JD McPherson (lead and backing vocals, guitar), Jimmy Sutton (bass), and Alex Hall (drums, piano, organ), the album was recorded through a collection of vintage microphones into an old 1960's Berlant 1/4 inch tape machine. The 12-track album kicks off with the fervent pulse of the first single, "North Side Gal," and segues into one of the albums two covers, McPherson's take on "Country Boy," an old R&B number originally written and recorded by Tiny Kennedy.
JD MCPHERSON EUROPEAN TOUR DATES 2013
         Jan 17       Electric Ballroom       London, United Kingdom 
         Jan 18       Haunt        Brighton, United Kingdom        
         Jan 19       BALAJO  Paris, France              
         Jan 20       Melkweg   Amsterdam, Netherlands
         Jan 22       Brudenell Social Club        Leeds, United Kingdom   
         Jan 23       Bullingdon Arms       Oxford, United Kingdom  
         Jan 24       The Deaf Institute      Manchester, United Kingdom  
         Jan 25       Celtic Connections    Glasgow, United Kingdom       
         Jan 26       Caedman Hall   Gateshead, United Kingdom