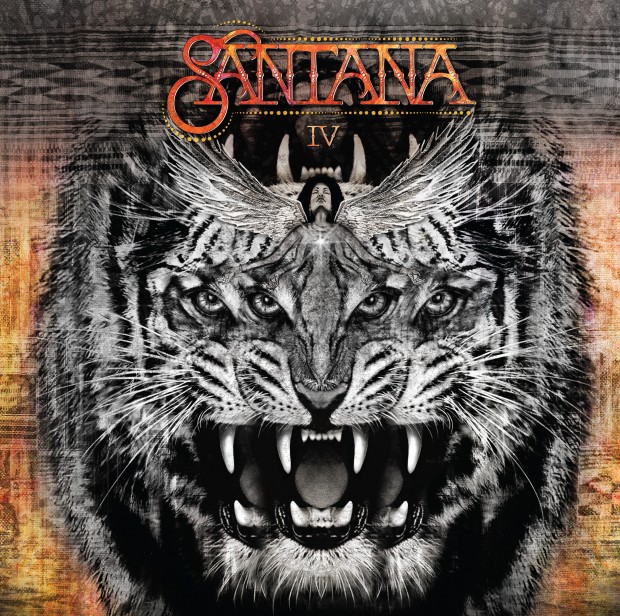 1st Time Since 1973
The Original Santana Band
Carlos Santana – Gregg Rolie – Neal Schon
Michael Shrieve – Michael Carabello
Santana IV  features 16 all-new tracks written and produced by the band that burst with the same unparalleled energy and superlative musicianship that made Santana a pioneering force in world music and a household name across the globe. Joining the core Santana IV band in the studio are current Santana members Karl Perazzo (percussion) and Benny Rietveld (bass), with the legendary vocalist Ronald Isley guesting on two cuts.
The origins for the reunion go back several years, when Schon suggested that he and Carlos Santana record together. Santana liked the idea but went one better, proposing that they recruit Rolie, Shrieve and Carabello for what would be called Santana IV. After initial writing sessions and rehearsals took place in 2013, the group recorded throughout 2014 and 2015, amassing 16 spellbinding tracks that combined all their signature elements – Afro-Latin rhythms, soaring vocals, electrifying blues-psychedelic guitar solos, and irrepressibly jubilant percussion work – with widescreen hooks and melodies that will lodge themselves in the thicket of listeners' senses and stay there.
The band's signature sound arrives forcefully on the album opener "Yambu," a righteously gritty and soulful stomper teeming with swirling B3 organ hooks and walloping guitar crunch.
The first single, "Anywhere You Want to Go," is destined to storm the pantheon of Santana classics. Written by Gregg Rolie, it's a sexy, body-shaking winner and an unmistakable tip of the hat to the inescapable cha-cha/Latin jazz charms of "Oye Como Va."
Ronald Isley (The Isley Brothers) is a special guest on two tracks. His vocals highlight the feverishly impassioned Latin-rock workout "Love Makes the World Go Round" and the hard-edged and funky "Freedom in Your Mind.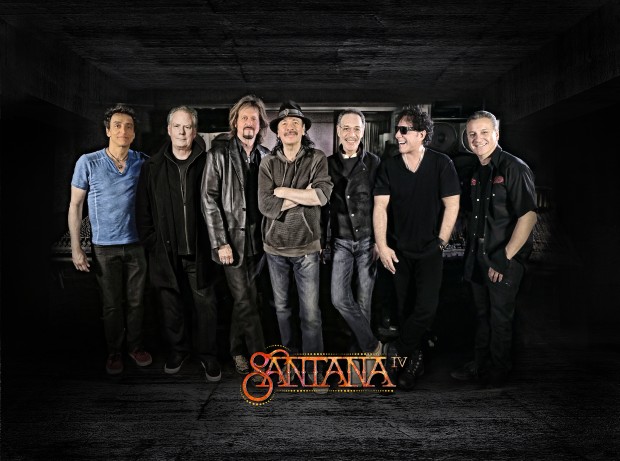 Guitar fans expecting fireworks from Santana and Schon will cherish Santana IV from front to back. "All Aboard" is a no-holds-barred guitar jam of the highest order, as is the slinky, soulful metal cruncher "Caminando," which explodes with tectonic axe force. And on the unabashedly British blues-tinged "Shake It," the two go toe to toe on not one but two extended solo runs that will have lovers of unhinged fretboard work rejoicing.
"Carlos and I feel more connected than ever," says Schon. "We get super-aggressive when we play, but also melodic and poetic. We have an incredible dialog with each other on our guitars."
Santana's recurring themes of love and tolerance are common threads throughout Santana IV, most dramatically on the epic tone poem album closer "Forgiveness," a languid and breathtakingly gorgeous atmospheric groover.
Music fans familiar with the "roaring lion" artwork on Santana's 1969 debut album will instantly greet Heather Griffin-Vine's graphic for Santana IV as a gloriously realized update of that iconic image. "I really think the music goes along with the cover, and vice versa," says Santana. "It all fits together beautifully."
Few bands can pick up a musical dialog after 45 years apart, but on Santana IV each band member reaches a new level of virtuosity and communal intuition on a collection of songs that easily stands side-by-side with the group's treasured early work.
"When you can go back and break new ground with joy and determination – and  some whoop-ass energy – it gets you going," says Santana. "I think we achieved something very rare. This music was screaming to come out of us. It wasn't about nostalgia. It was about passion."



Santana IV
Tracklisting
1. Yambu
2. Shake It
3. Anywhere you Want To Go
4. Fillmore East
5. Love Makes The World Go Round
6. Freedom In Your Mind
7. Choo Choo
8. All Aboard
9. Sueños
10. Caminando
11. Blues Magic
12. Echizo
13. Leave Me Alone
14. You And I
15. Come As You Are
16. Forgiveness
jjjj
 Tour Dates – July 2016
Carlos Santana
jaj
3
 – Appolo, London UK
5
 – Bercy, Paris FRA
8
 – Dolina Charlotte Resort,
Slupsk POL
9
 – Festival, Postdam GER
10
 – Bospop Festival, Weert NZL
12
 – Stadthalle, Vienna AUS
14
 – Festival, Montreux SWI
16
 – Jazz Open Stuttgart,
Stuttgart GER
17
 – Guitare en Scene Festival,
St. Julien en Genevois FRA
19
 – Piazzola sul Brenta, Padova ITA
20
 – Arena della Regina, Rome ITA
21
 – Milano Summer Arena, Milan ITA
23
 – Starlite Festival, Benidorm SPA
24
 – Starlite Festival, Marbella SPA
26
 – Meo Arena, Lisbon POR
For more information about the Thirty Tigers roster, including Santana, please contact Sara Silver
sara@thirtytigers.com
 +44 (0)20 8265 0772