The Turnpike Troubadours are set to release their hot-rockin' eponymous fourth album in the UK and Europe.
Hailing from Tahlequah Oklahoma The Turnpike Troubadours are set to release their fourth album this autumn. The eponymous release, on their own Bossier City Records finds the quintet in fine form, playing their high octane blend of Red Dirt, country roots and raw, hard rocking overdrive with a conviction and passion that finds them widely championed by those seeking an alternative to the Nashville mainstream's saccharine gloss.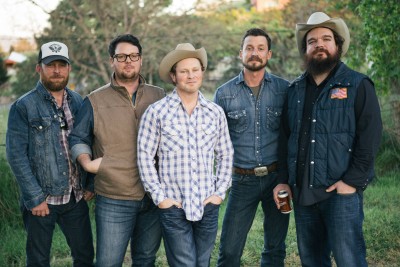 The band made their debut back in 2007 and have since gone on to cement a reputation as a hard working band, putting in the road miles and steadily growing an audience across America. It's no longer news when they draw 5,000-plus at Billy Bob's in Fort Worth, sell out three nights in a row at Gruene Hall or turn several hundred away at the Legendary Stubb's Bar-B-Q in Austin. Word has spread, throughout the States. Their shows in Chicago, St. Louis and elsewhere have pulled in more than 1,000 fans. And they've drawn full houses at Joe's Pub in New York and The Troubadour in L.A., among many other nightspots North, South and from coast to coast.

Subsequently they've even been picked by   Playboy as one of three acts to watch in 2015 –  a distinction lead singer, guitarist and principal  songwriter Evan Felker admits is, "Pretty  bizarre," but actually, still rather impressive  nonetheless.
Their high energy musical approach centres on   Fekler's acute observations of American life, with fiddler Kyle Nix and steel and electric guitarist Ryan Engleman bringing their instrumental flair. The rhythm section of bassist RC Edwards and the more recent recruit, drummer Gabe Pearson, are lock-tight and with four of the band singing, they boast some impressive harmonies too. Ryan also produces, along with engineer Matt Wright and there is a notable guest appearance from former Troubadours' alumnus John Fullbright on keys, vocals, guitar, banjo and accordion.
For all of their raw rock drive, however, it's the songs that really stand out with lyrically engaging and compelling stories. There's 7 Oaks, recounting a life of desperation through poverty, made more vivid by an incongruous hoedown accompaniment. Bossier City focuses on a sad mill worker who blows his pay regularly on gambling and booze. The Bird Hunters is a short story set to a Cajun waltz about friendship, love and coming home. Down Here documents a conversation between one guy who has lost all he had and another who assures him life "down here" really isn't so bad. How Do You Fall Out Of Love offers a melancholy meditation on lost love.
There's an adroit technique at work here, adding a unique spin to an age old craft. "Human beings like stories," Felker insists. "It doesn't matter what form, whether it be a song or a movie or a poem. And they've always been drawn to characters. Our songs are real life applied to stories applied back to real life. I might get a plot line from several short stories I've read. Then I'll build fallible characters into the midst of all that. They're never archetypes. They're real. It's all about the character."
In fact, characters are so central to the Turnpike Troubadours that they often turn up in more than one song. On The Turnpike Troubadours, for instance, the narrator in Down Here, Danny, turns up again in The Bird Hunters.
"Stephen King has this canon of characters and any of them can walk into one of his stories at any time," Felker says. "You have all these characters living in the same universe. I haven't ever seen that applied to songwriting, but that's what I'm doing."

This universe feels real on The Turnpike  Troubadours because the band resolved to let the album happen on its own time. Moving out to the Prairie Sun recording complex in the desert country of Cotati, California, setting up in former chicken coops converted into studios, they metaphorically unplugged the clock and worked studiously through 12-hour sessions, wrapping up only when each story and every note rang true. "This album sounds like us at our best," Edwards says. "We weren't going for being overproduced. What we got was exactly what we wanted because we didn't have that time factor problem."
In many ways it channels what the band have become renowned for, bringing their highly charged live show into the studio. 
"Our sound comes from playing country music, punk rock and anything else we liked in honky-tonks and beer joints," Edwards adds. "You've got to give the crowd something to dance to and have a good time. But songwriters are the most important thing. So I think everything we've done says that you can have it both ways."
The Turnpike Troubadours have crafted an artful album, enriched by a narrative tradition that traces back to their fellow Oklahoman Woody Guthrie, in which every nuance tells a story unto itself and it all adds up to one hell of a record from a band on the up and up. As bizarre as it may be, it seems Playboy has a point.