DYNAMIC SOUL SEPTET 
ST. PAUL & THE BROKEN BONES
ANNOUNCE 2015 EUROPEAN TOUR DATES
jjjj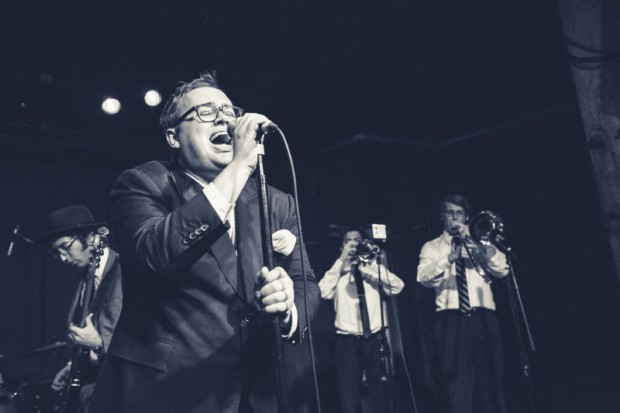 photographer: Sundel Perry
"this is one of the most stupendous live acts around." – The Guardian
 
"they call their new album 'Half the City', but the whole country needs a shot of vocalist Paul Janeway's old-school soul group." – USA Today
 
Electrifying soul septet St. Paul & The Broken Bones has announced dates for their early 2015 European tour, in March (see dates below). St. Paul & The Broken Bones have been touring almost nonstop throughout the U.S. and Europe, with a myriad of sold out shows, national television performances and major music festival debuts in support of their debut album Half The City. Released in May in Europe, Half The City continues to gain new fans at each and every show with their sweat-soaked, gutbucket, horn-infused brand of Muscle Shoals/Stax-influenced R&B. NPR Music said of their live shows, "The mighty Paul Janeway embodies Clark Kent's transformation into Superman every time he opens his mouth, and his band of Alabama kids turned sweet soul masters makes sure he can fly."
 
2014 has been an incredible year thus far for the Birmingham Alabama-based ensemble. They made their US network TV debut on CBS Saturday Morning, followed by appearances on The Late Late Show with Craig Ferguson,Jimmy Kimmel Live and an upcoming performance on The Steve Harvey Show later this year. In Europe they have appeared live on Jo Whiley and Dermot O'Leary on Radio 2 and  had a playlist for their debut single "Call Me"; WDR News filmed them live in Cologne, VPRO 3voor12  filmed the band live at the Into The Great Wide Open Festival in Holland  and in France the band filmed a captivating two-song 'Take Away Show' performance outdoors for the acclaimed La Blogotheque, sans amps and PA, guerrilla style at the Louvre on the same day they were live on France Inter.
St. Paul & The Broken Bones gave a show-stopping performance during the Americana Music Association Honors & Awards show in September, where they were nominated for 2014 Emerging Artist Of The Year. "St. Paul & Broken Bones are shaping up as one of 2014's most impressive DIY stories," said The Hollywood Reporter and the astonishing review from the END of the Road FESTIVAL in September by the Guardian,"this is one of the most stupendous live acts around." – put a voice to the reaction globally wherever the band has ventured since their launch earlier  this year.
The Band are coming back to tour Europe in March 2015.  Get those White Dancing Shoes Ready..
 
2015 European Tour Dates
jjjj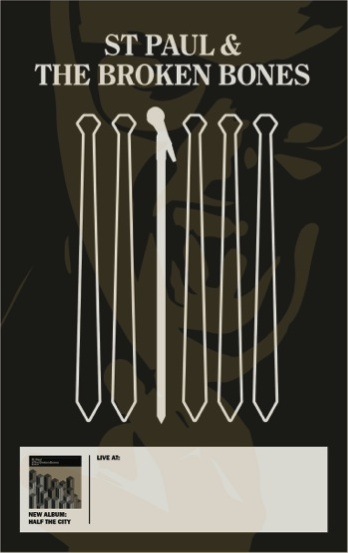 jjjj
Mar. 5 – Oslo, Norway – Cosmopolite
Mar. 6 – Copenhagen, Denmark – Lille Vega
Mar. 7 – Hamburg, Germany – Mojo
Mar. 9 – Amsterdam, The Netherlands – Paradiso Noord
Mar. 10 – Brussels, Belgium – Botanique
Mar. 12 – Lyon, France – Transbordeur Club
Mar. 13 – Clermont – Ferrand, France – Cooperative de Mai
Mar. 15 – Barcelona, Spain  – Bikini
Mar. 16 – Madrid, Spain – Teatro Barcelo
Mar. 18 – Nimes, France – La Paloma
Mar. 19 – La Rochelle, France – La Sirene
Mar. 21 – Maastricht, The Netherlands – Theater aan het Vrijthof
Mar. 22 – Munich, Germany – Ampere
Mar. 23 – Zurich, Switzerland  – Kaufleuten
Mar. 25 – Grenoble, France  – La Belle Electrique
Mar. 26 – Reims, France –  La Cartonnerie
Mar. 27 – Paris, France – La Maroquinerie
Mar. 28 – London, England – Shepherd's Bush Empire
jjjj
St Paul & The Broken Bones's Website
St Paul & The Broken Bones's Facebook
St Paul & The Broken Bones's Twitter
St Paul & The Broken Bones's Instagram