'Songs' out 27.07.2014
On July 21st, John Fullbright will release his second studio album, 'Songs,' (Blue Dirt/Thirty Tigers). The new album showcases the strongest songwriting of the 25 year-old's career and follows the breakout success of his 2012 debut 'From the Ground Up,' which was nominated for the 'Best Americana Album' Grammy and featured in the Wall Street Journal, LA Times, NPR and more.
If there's a recurring motif that jumps out upon first listen to 'Song,' it's the act of writing itself. 'When I discovered Townes Van Zandt, that's when I went, 'You know, this is something to be taken pretty damn seriously," says Fullbright. 'You can write something that's going to outlast you, and immortality through song is a big draw.'
The arrangements on 'Songs' are stripped down to their cores and free of ornamentation. Fullbright's guitar and piano anchor the record, while a minimalist rhythm section weaves in an out throughout the album. That's not to say these are simple songs; Fullbright possesses a keen ear for memorable melody and a unique approach to harmony, moving through chord progressions far outside the expected confines of traditional folk or Americana. The performances are stark and direct, though, a deliberate approach meant to deliver the songs in their purest and most honest form.
Listen to the album 'Songs' here:

'Never Cry Again,' is the first single to be taken from the critically acclaimed album, 'Songs'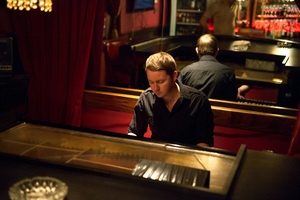 'Never Cry Again,' out 02.06.2014
"Never Cry Again" is taken from Fullbright's  forthcoming  second album simply entitled "Songs" . The new album is destined to firmly establish Fullbright with even greater critical acclaim following on from his stunning debut LP 'From the Ground Up' which was more than deserving of its Grammy and Americana Award nomination.
Born in Woody Guthrie's hometown of Okemah, Oklahoma, John Fullbright grew up surrounded by a rich musical heritage, influencing his own music, as demonstrated in the brilliant new single, 'Never Cry Again.'
 For more information about John Fullbright, contact Sara Silver
sara@thirtytigers.com +44 (0)20 8265 0772