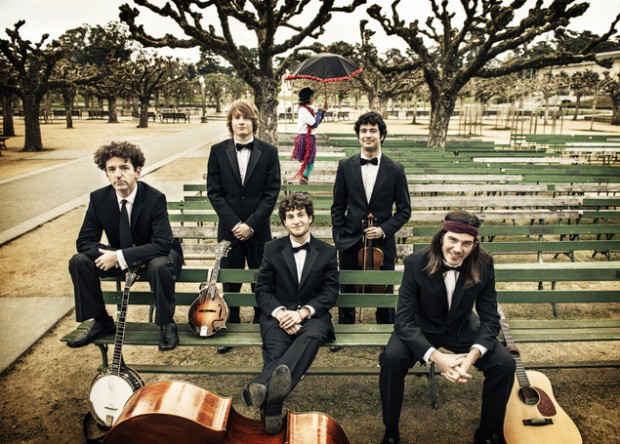 Roll Me, Tumble Me, the Deadly
Gentlemen's third album and Rounder
debut, boasts ten winsome examples of
their playfully irreverent, vibrantly rootsy
songcraft. The Boston-based
quintet comprise acoustic guitar, banjo,
fiddle, mandolin and double bass, infused with an assortment of influences through their own decidedly distinctive songwriting sensibility and uncanny instrumental rapport. The result is timelessly resonant music that's rooted in tradition, yet effortlessly contemporary and boundlessly entertaining.
The Deadly Gentlemen's members had all led eventful individual musical lives before they joined forces. In addition to touring and recording extensively with Crooked Still, Greg Liszt attended college at Yale and earned a Ph.D. from M.I.T. in Molecular Biology. His innovative four-finger picking technique helped him to win a place as a member of Bruce Springsteen's live band for Springteen's Seeger Sessions tour.
Mike Barnett began his career as a child fiddle prodigy, touring with bluegrass legend Jesse McReynolds at the tender age of 15. His world-class talents have won him gigs as a member of the David Grisman Quintet and the Tony Trischka Band.
Bassist Sam Grisman has played professionally since his teens, having learned to play bluegrass and other styles at the feet of his father, seminal mandolinist David Grisman.
Mandolinist Dominick Leslie is another former child prodigy, having achieved a series of career milestones before he'd reached the age of 16. Recently, he's won considerable attention for his live appearances with banjoist Noam Pikelny, the Infamous Stringdusters, and the Grant Gordy Quartet.
In contrast to his bandmates' backgrounds in acoustic music, guitarist Stash (short for Stanislaw) Wyslouch grew up on heavy metal before submerging himself in bluegrass and country. His history in hard rock still manifests itself in his propensity for wringing unexpected sounds out of his guitar and screaming at the top of his vocal range. His resume also includes membership in Eric Robertson and the Boston Boys as well as Blue Moose and the Unbuttoned Zippers.
Liszt first hooked up with Barnett and Grisman in 2008 to record the first Deadly Gentlemen project The Bastard Masterpiecee. By the time the current lineup solidified in time to record the 2011 followup Carry Me to Home, the group's style had begun to evolve towards the sound that's featured on Roll Me, Tumble Me, reflecting the five musicians' wide range of interests and diverse assortment of personalities. Liszt and his bandmates sharedproduction with noted Nashville engineer Erick Jaskowiak; cutting the instrumental tracks in a makeshift studio set up for the occasion in a house in Eclectic, Alabama, before bringing the tracks home to Boston to record their vocals; resulting in a remarkable creative output which is too eclectic and unruly to be contained within a single genre.
UK Release date 5th August – on Rounder Records