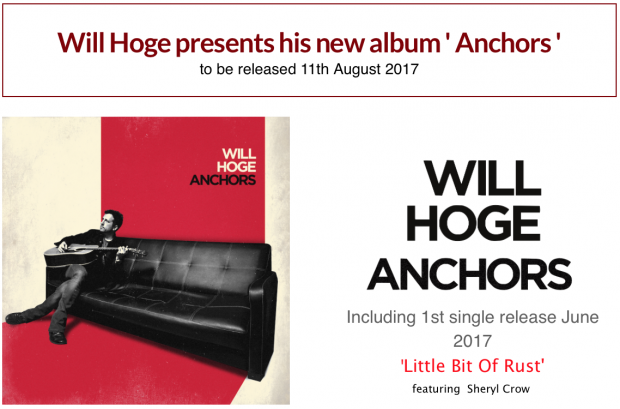 "I hit a wall," says Will Hoge. "I was doing the best touring of my career and I had a great, steady gig writing songs, but I was falling out of love with being in a band. I had to figure out what was next."
For Hoge, what came next was a quest to reclaim the joy and the magic that had drawn him to music in the first place. He let his band go and hit the road for roughly a year of solo shows, crisscrossing the country by himself with just a guitar and a keyboard. He felt rejuvenated by the freedom and began writing material that reenergized him, that made him feel like a kid falling in love with rock and roll all over again. Those songs ignited a dormant flame somewhere deep within his soul, and now they form the bulk of Anchors, his strongest and most nuanced album to date.
Recorded with an all-star band comprised of drummer Jerry Roe (Emmylou Harris & Rodney Crowell, Darius Rucker), bassist Dominic Davis (Jack White, Wanda Jackson), and guitarists Brad Rice (Son Volt, Ryan Adams) and Thom Donovan (Lapush, Ruby Amanfu), the album is a prime showcase for Hoge's soaring, gritty vocals, as well as his remarkable gift for crafting complex characters with real emotional depth and plainspoken profundity. Over the course of eleven tracks (including one with special guest Sheryl Crow), Hoge weaves elements of vintage country, literate folk, and heartland rock into a passionate, genre-busting masterpiece, one that offers an unflinching portrait of the messy challenges of adulthood and the ways in which we persevere (or don't) through hard times.
Beginning with the release of his acclaimed 2001 debut, Carousel, Hoge established himself as a masterful songwriter and performer as well as a critical favorite, with Rolling Stone comparing him to Bob Seger and John Mellencamp and NPR praising his "sharp, smart, passionate rock 'n' roll that seems to exist out of time." He built up a loyal fanbase the old fashioned way, maintaining a steady studio output and a relentless touring schedule of more than 200 shows a year, including bills with the likes of My Morning Jacket, the Black Crowes, and Drive-By Truckers, in addition to festival slots from Bonnaroo to Austin City Limits. In 2012, the Eli Young Band hit #1 on the Billboard Country chart with their Platinum-selling recording of Hoge's song "Even If It Breaks Your Heart," earning Hoge nominations for CMA, ACM, and GRAMMY Awards. Soon he was performing everywhere from the Grand Ole Opry to The Late Show with David Letterman, his music was soundtracking a high-profile Chevy truck campaign, and he'd signed a major publishing deal.
When the inspiration ran dry, though, Hoge took a gamble on himself and walked away from it all in order to pursue the kind of art that truly moved him, to make something that mattered. If Anchors is any indication, it was a safe bet indeed.
Following the explosive UK come back tour in 2015  Will Hoge will be Introducing 'Anchors' on a special UK solo run following a Spanish Festival:
JULY
07 Huercasa Country Festival – Segovia, SPA
09 The Maze – Nottingham, UK
10 Gullivers – Manchester, UK
11 Live Theatre – Newcastle, UK
12 Thekla – Bristol, UK
13 The Garage – London, UK
14 Prince Albert – Brighton, UK
Tracklisting
01    The Reckoning
02    This Grand Charade
03    Little Bit Of Rust
04    Cold Night In Santa Fe
05    Baby's Eyes
06    (This Ain't) An Original Sin
07    Through Missing You
08    Anchors
09    Angels Wings
10    17
11    Young As We Will Ever Be
Cat no: CD  ED 001 & LP ED 0011
For more information about Will Hoge please contact Sara Silver
sara@thirtytigers.com +44 (0)20 8265 0772
http://www.silverprojects.com/news/
We provide a home for independent artist's
distribution in Europe Via Redessential