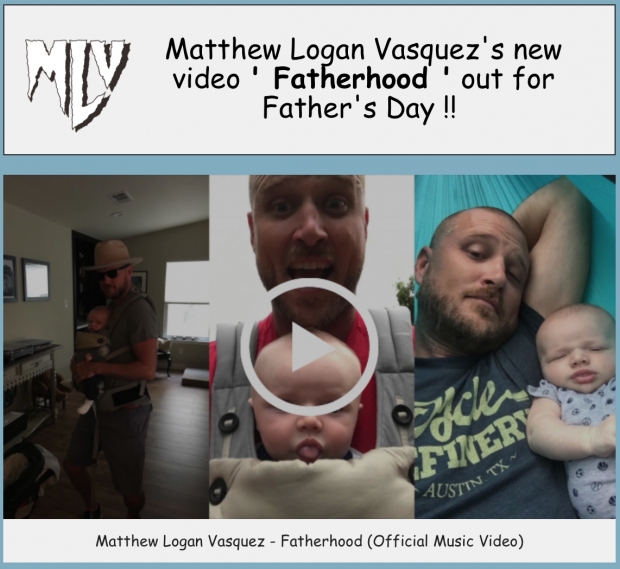 Delta Spirit frontman, Matthew Logan Vasquez and band will be appearing in the UK on  an 8 date headline tour with special guest David Ramirez, taking in The Old Blue Last in London on Wednesday 12th July.  Ahead of the UK, MLV also plays four dates in the Netherlands, supporting both Nathaniel Rateliff & The Night Sweats and Old Crow Medicine Show.  MLV brings with him a 3 piece band made up with musicians Brendan Bond and Judson Johnson, fresh off tour in the US, showcasing a unique brand of rowdy, Waits influenced Americana.
The tour announcement follows the release of MLV's debut solo album 'Does What He Wants'. Vasquez knows how to fuse passion with poetry in his writing and then ignite the combination with his staggeringly expressive vocals. The new video and single 'Fatherhood' illustrates this as much as the  debut  single 'Same'.  Fatherhood features some well known friends of Vasquez :
MLV and Jon Jameson- Delta Spirit
David Vandervelde – Father John Misty
Joseph Pope – Nathaniel Rateliff and the Night Sweats
John McCauley
Israel Nash
T Hardy Morris
Sam Outlaw
Richie Follin – Guards, CRX
Will Johnson – Centro-matic, Monster of Folk
Peter Matthew Bauer
Jessie Carson – Midland
Ian Blesse – Strange Vine
Justin Norman – The Confession
Justin Ivey – the fling
and many other friends and fans
Throughout 'Does What He Wants', vivid stories are juxtaposed with retro textures, helping piece together a narrative of the constantly self-aware and restlessly creative individual that is Matthew Logan Vasquez. This is a genuinely personal record that tackles universally relatable frustrations and miseries of life; impatient landlords, lack of stability and financial woes, whilst managing to remain ever hopeful and positive throughout.
JUNE
24th     Raalte, Pedro Pico Pop,  Netherlands
27th     Bloemendaal, Open Air Theatre Bloemendaal-Caprera, Netherlands **Nathaniel Rateliff support**
28th    Groningen, De Oosterpoort, Netherlands **Nathaniel Rateliff support**
30th    Amsterdam, Paradiso, Netherlands **Old Crow Medicine Show after show**
JULY
1st      Rossum , Rosrock, NL
3rd     Brighton, The Prince Albert – With David Ramirez 
4th     Manchester, The Deaf Institute – With David Ramirez 
6th     Glasgow, Stereo Cafe Bar – With David Ramirez 
7th     Newcastle, Underground – With David Ramirez 
8th     Birmingham, Actress & Bishop – With David Ramirez 
9th     Nottingham, The Bodega – With David Ramirez 
11th   St Albans, The Horn – With David Ramirez 
12th   London, The Old Blue Last – With David Ramirez
For more information about Matthew Logan Vasquez please contact Sara Silver
sara@silverprojects.com +44 (0)20 8265 0772
http://www.silverprojects.com/news/